Tauranga's Durham St to become careers central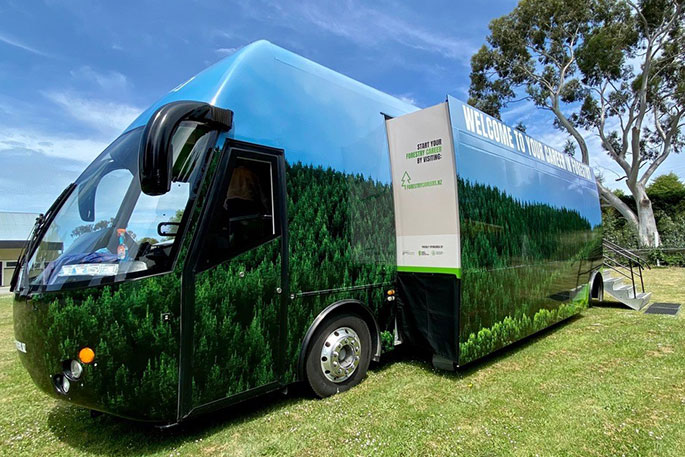 Durham Street will be transformed into the Canvas Careers Expo this Friday and Saturday, with more than 50 exhibitors from across the region and New Zealand showcasing career and job opportunities.
Organised by Tauranga Rotary and Priority One, the Canvas Careers Expo has moved to Durham Street this year to acknowledge the education hub in the city centre.
Organiser Sue Boyne says it will be an exciting two days.
"With the University of Waikato city centre campus on Durham Street it seems a fitting place to stage the expo and allows us to create a highly dynamic, visual and interactive expo on the street and inside some of the organisations on the street."
The expo runs from 10am – 2pm both days, with local and national tertiary training providers on site.
"Canvas Careers Expo is a unique opportunity for students and those considering a career change or looking for a job to come and see a diverse range of career pathways and talk directly to training providers.
"We have Universities from across NZ joining us for the expo alongside the Pacific International Hotel Management School, Tertiary Institutes, Employ NZ, Beca, NZ Defence Force, Education USA and many, many more."
Anchored by the University of Waikato and Toi Ohomai, Sue says the expo will showcase the huge diversity of career and job pathways available for those who attend.
Some of the highlights this year include the InZone Careers Coach – a dynamic multi-media bus that's travelled from the South Island, features push out sides, and promises an unparalleled dynamic and interactive presentation that showcases New Zealand industry training organisations, tertiary institutions and Defence Forces.
Meanwhile, the University of Waikato will have the Optojump and some bikes from their Adams High Performance centre, so the public can test their jump height and race each other.
On the Saturday morning, the Young Enterprise Scheme Market day takes place on the street so the public can see some of the awesome businesses that have been created under YES Tauranga, browse a selection of products and walk away with some locally made creations.
University of Waikato scientists will be dissecting a Thresher shark at 12noon in the lane beside the University and the public can view a rare Taningia fimbria, one of the largest squid species in the world that was recently caught off Whakaari/White Island.
"We've also got the NZ Defence Force here with some of their heavy vehicles and Freight Logistics with a few trucks. There will truly be something for everyone," says Sue.
Mainstreet Tauranga Manager Millie Newitt says they're getting right behind the expo too.
"We're absolutely thrilled we could work with the organisers to host this expo in our city centre. Durham Street will truly come alive over the two days of the expo and it makes such perfect sense as Durham Street is our education hub.
"On the Friday or Saturday students, parents and care givers and the public can come along and enjoy this interactive expo and then enjoy some shopping or dining in our CBD businesses."
Run by Tauranga Rotary and Priority One Canvas Careers Expo is free and on 10am – 2pm next Friday and Saturday.
More on SunLive...