BOP Symphonia reunion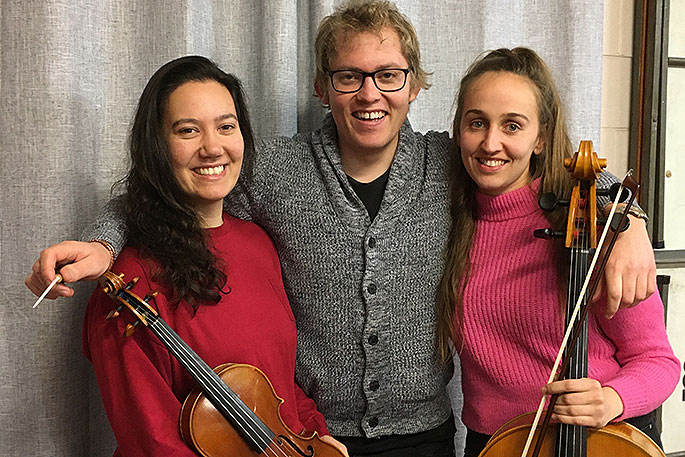 The Bay of Plenty's community orchestra is set to perform its 'Triumph and Tribulation' concert at Holy Trinity Church on August 15.
The orchestra will be joined by two special past players who have returned home while COVID-19 rages overseas.
Violinist Amelia Taylor and cellist Charlotte Ketel played with Bay of Plenty Symphonia during their school days, before continuing performance studies at University of Waikato.
There they met cellist Tim Carpenter, who has since become a sought after conductor and will direct this concert.
Charlotte's Masters' studies took her to Germany, where she has made a name for herself playing and touring with professional ensembles such as the Berlin Philharmonic Film Orchestra.
Amelia chose to move to USA for her specialist degree, where she met her musician husband, Alejandro Larumbe.
Now living in Michigan, Amelia and Alejandro are passionate teachers and performers and have initiated various international chamber music programmes, including collaborating with Charlotte in the Harikoa quartet.
The friends are now reunited in Tauranga and the Symphonia is very happy to have them back in the orchestra, this time under the baton of their old classmate.
'Triumph and Tribulation' features a short appearance by Youth Philharmonic Tauranga as well as award-winning trombonist, Joe Thomas, in Grondahl's exciting trombone concerto.
The programme celebrates victory over hardship and sadness, progressing from Sibelius's well-loved Valse Triste and Ken Young's Douce Tristesse to the cheerful finale of Poulenc's Sinfonietta.
When: 2.30PM, Saturday, August 15
Where: Holy Trinity Church, Devonport Road
Entry: No ticket needed, donations welcome
More on SunLive...