BOP shooter gets a year knocked off sentence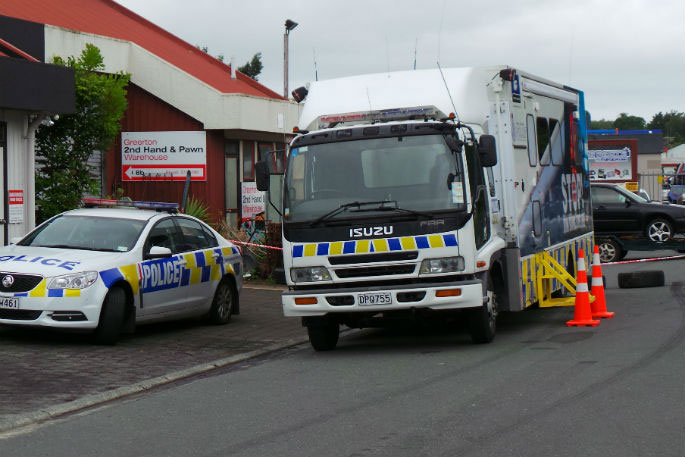 A street-level drug dealer who fatally shot a gang enforcer has had a year taken off his prison sentence.
Colin Jefferies-Smith was convicted of manslaughter for shooting Lance Wayne Waite – a senior member of the Notorious chapter of the Mongrel Mob – twice in the back in Tauranga in 2018.
He was willing to plead guilty to manslaughter more than a year out from the murder trial but the Crown wasn't formally told, meaning he missed out on some of the sentence discount for an early guilty plea.
Jefferies-Smith had been trying to retrieve a car Waite had taken as a tax when he fired the fatal shots at the Greerton 2nd Hand and Pawn Warehouse, known as the Trap.
He was initially jailed for nine years for manslaughter, but that was dropped to eight years on appeal.
The other part of his sentence – two years on drugs charges - was not part of the appeal.
There was a "lack of formal communication with the Crown" on Jefferies-Smith's willingness to plead guilty, Justice Patricia Courtney's Court of Appeal judgment said.
"Without implying any criticism of the counsel who acted for Mr Jefferies-Smith up to the point of trial, we find that ... was the result of the way Mr Jefferies-Smith's representation proceeded rather than any omission on Mr Jefferies-Smith's part."
Given the Crown case, "conviction for murder was quite possible and for manslaughter highly likely".
"It was incontrovertible that Mr Jefferies-Smith had shot Mr Waite."
Jefferies-Smith acknowledged that from the start but said he'd done it in self-defence - though Courtney said that argument was unlikely to succeed because Waite was shot from behind.
Still, Jefferies-Smith had been willing to plead guilty to manslaughter at least a year before the May 2019 trial.
That should have got him a 20 per cent discount instead of the 10 per cent he was granted, Justice Courtney ruled.
Jefferies-Smith and lawyer Mark Edgar also unsuccessfully argued that he'd fired the shots in self-defence.
Justice Courtney was unconvinced.
"My assessment is that Mr Jefferies-Smith went to the Trap with a firearm and ammunition and threatened the deceased in order to get his car back. Mr Jefferies-Smith lost his temper when the deceased mocked him and told him that he would not use the gun."
Jefferies-Smith's nine-year prison sentence for manslaughter was changed to an eight-year sentence.
More on SunLive...