Tauranga photographer snaps Comet Neowise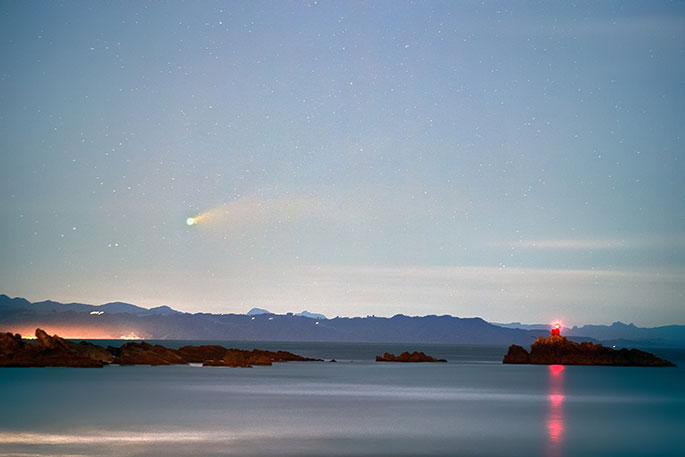 Tauranga photographer Amit Ashok Kamble's persistence has paid off.
Amit captured Comet Neowsie on camera overnight while at Mount Main Beach.
Comet NEOWISE is a long period comet with a near-parabolic orbit that was discovered on March 27, 2020, by astronomers during the Neowise mission of the Wide-field Infrared Survey Explorer space telescope.
Amit wanted to get the comet on camera but, after a disappointing start with clouds lying low just where the comet is going to be and starwalk 2 and stellarium showing that the comet is below horizon, he was almost ready to give up.
"Around 6.30pm, the clouds started dissipate. I took one more shot and woah, it was there. This tiny smudge at the top left of the screen."
Amit framed it, shot around 120 images and tracked it with iOptron skyTracker.
He says the foreground is slightly blurry in the image as it was part of the tracked images, they were stacked separately and combined with sky.
"You may notice some stars behind the cloud on right, as the clouds moved between images.
"Although, was not at all visible to the naked eye and was still too bright for a long exposure, I stuck with shorter 5sec exposures at ISO 3200 at 200mm. It was enough to show just a faint tail at the end."
Amit says he is happy that he got to shoot the comet, although he admits it would have been nice to see it with the naked eye.
The image, pictured above, was shot from Mount Main Beach.
More on SunLive...