Te Puke neighbours lead plea for less speed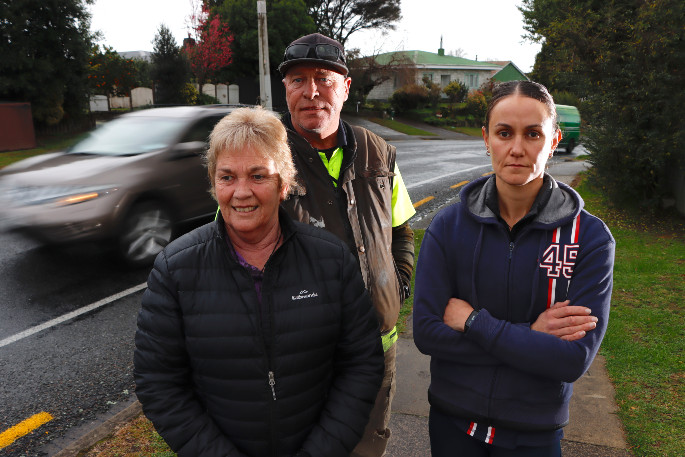 Te Puke residents are calling for action to slow down speeding drivers on Boucher Ave following the third crash there this year.
Early on Sunday morning, many were abruptly woken when a speeding vehicle hit a power pole, bringing down powerlines and causing an outage which lasted into the afternoon.
"Three times in one year we have been woken to a crash on Boucher Ave," says Tara Jones, who lives near the corner where the crash happened. "Something needs to be done!
"I heard two bangs, then there were a couple of flashes of light, then my dog barked."
Remembering the previous crash, she knew not to go outside barefoot, pausing to put shoes on first. Other neighbours were already there, concerned for the driver but cautious because of the downed power lines. Debris was scattered across the road and berm, with the car on its side. A neighbour had seen the driver jump out of the car and run away down the road, but was eventually treated by ambulance staff.
It was 3.30am on yet another night of trucks and cars speeding along the avenue.
"I could hear it coming," says Tara.
"Every weekend there are cars racing and every night there's somebody definitely going over 50 km per hour.
"Our road goes right up to No 2 Road so we get lots of traffic going up to the subdivisions or the kiwifruit orchards. It is a really busy road, it's 50 km but that doesn't seem to matter."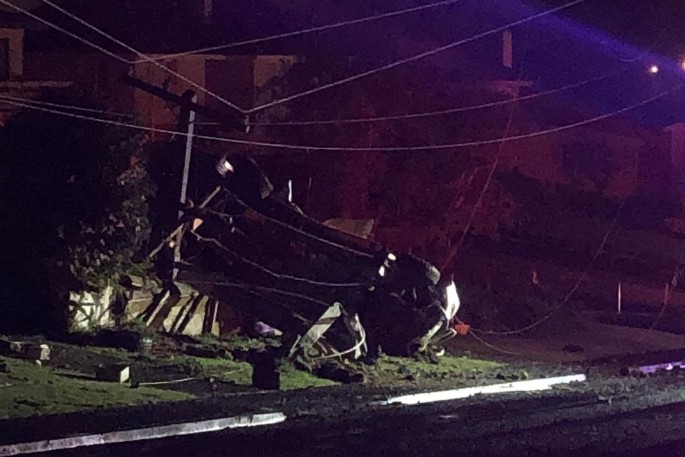 The vehicle that smashed into a power pole on Boucher Ave last weekend. Photo: Tara Jones
Nearby neighbour Leeann Roestenburg had her fence taken out by a drunk driver early one Saturday morning in March.
"He was speeding up Boucher Ave towards No 2 Road and crashed into our front fence and our fence adjoining the Fairhaven School. The car ended up on its side," says Leeann.
Jerri-Lee Ngareta Hill's dog was hit by another speeding driver in March. She and her partner were woken by the bright light and sound of Saturday's crash, the aftermath of which she could see from her window on Sunday as the power company cleaned up.
"Hopefully the Council takes this issue seriously now after the third crash down our road due to speeding in a year," says Jerri-Lee.
"We're right on a blind corner so we hear it coming before it happens," says Tara. "People do a hellava lot more than 50km. Maybe we could have a speed camera to start with. Someone from roading needs to take a look at it and see if speed bumps could help slow people down."
The damage to property, inconvenience while the road is cleared, and panic and stress from waking up to the sound of speeding cars and a crash, are starting to take their toll.
"You just weather on and get through it. You get to meet the neighbours who are all community-minded," says Tara.
"You don't know what you're going to see when you open the door. It's a road we live on every day.
"Something needs to be done, we're so lucky that somebody hasn't lost their life. We can replace fences and we can replace cars but we can't replace lives."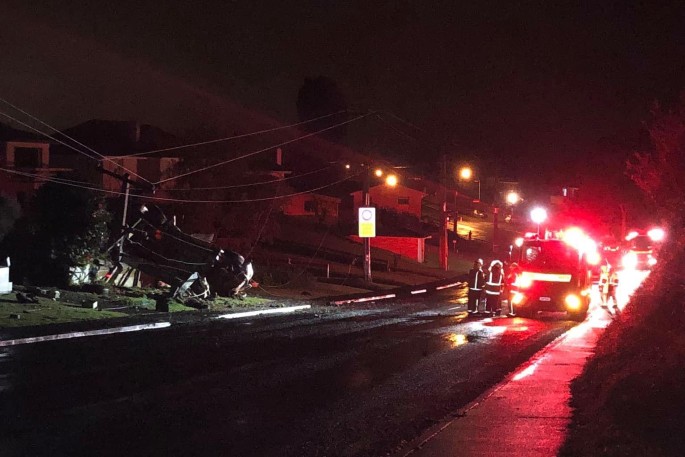 A power outage occurred following the crash by a vehicle on Boucher Ave in the early hours of the morning last Sunday. Photo: Tara Jones.
More on SunLive...