Fireside chat with David Seymour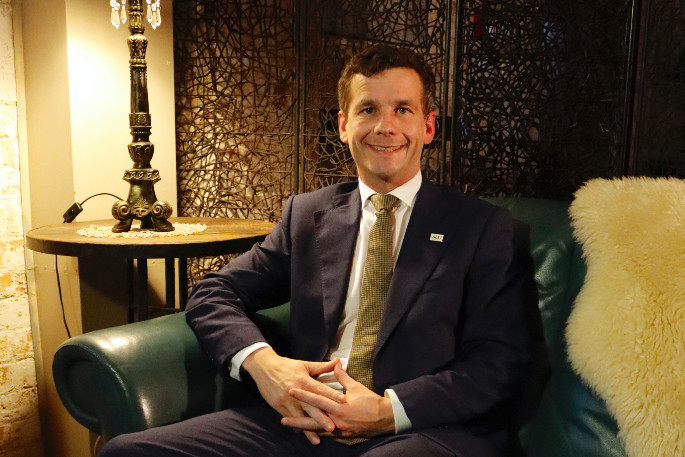 The Weekend Sun has a warm spot by the fire, at Number 1 The Strand, for politicians to stop by and share their ideas ahead of the upcoming election. First up is Act leader David Seymour.
David's Twitter spat with Winston Peters this week following an immigration announcement by the Deputy Prime Minister reflects his disdain for NZ First.
"You look at their provincial growth fund. All the money has gone to Northland to try and win a seat.
"That's banana republic stuff," says Seymour, from his spot on the leather couch.
"ACT proposes a partnership between government and every region to build infrastructure over a 30 year time period. That would see places like the Bay of Plenty that are really growing get the infrastructure the taxpayers are paying for.
"Regional partnerships are a massive opportunity. Infrastructure New Zealand promotes them, councils don't have enough money, and central government doesn't know what local people need. By partnering together, you get funding, accountability and a long-term perspective with local knowledge all together to build the infrastructure for every region of New Zealand, not just the one region New Zealand First think they can win."
Seymour is also scathing of the Government's border control failings, following the return to Alert Level 1.
"We were promised smart borders. Unfortunately the government isn't doing really simple things to justify the sacrifice New Zealand made for eight weeks.
"Epidemics tend to go one of two ways. Either the virus dies out or people just stop caring and live their lives. Sooner or later New Zealanders are going to move on, regardless of the virus. I don't think being asked to lock down again will be well tolerated by New Zealanders, especially when it's so obviously the government's fault this time."
He also thinks the Government is soft on gangs.
"They've got to stop this policy of gang appeasement. One gang member got essential worker status during the lockdown. The government seems to think if you make friends with the gangs, they'll be nice back to you. The police should be turning them over, putting them in jail for parking or jaywalking.
"Until you have leadership that says 'gangs and gang crime are not acceptable and we're going to do everything we can within the law to shut you down', then you're going nowhere. There's almost this view that our gangs are part of society, so it's 'just let them shoot people up'. Well that's not okay."
Despite Tauranga being an attractive place to live, he says it's "become one of the most price-y places in the English-speaking world.
"For a lot of people in the Bay, things are going great, except it's hard to build houses, especially for the younger generation. There's too much red tape and not enough infrastructure funding, making growth too difficult."
He wants to hear what the people of Tauranga are saying, noting that it's "appropriate we've got a builder", Cameron Luxton, standing as the Act Party candidiate for the Tauranga electorate and marketing manager Bruce Carley standing for the Bay of Plenty.
"Cameron actually knows what it's like to build houses and where the delays and roadblocks are. The number one thing here for the Bay of Plenty is making it easier for the next generation to build their homes here."
His vision includes every person having the same rights and educational opportunities.
"The government spends $15 billion a year on 60,000 children born every year. That's $250,000 spent on education per citizen throughout their life. At the moment, you wouldn't even know that quarter of a million dollars gets spent on you, as it gets trickled through all sorts of bureaucracies."
Seymour says that when a child turns two, a bank account set up for them would have $12,000 deposited annually.
"The parents can take your share to a school of your choice, either public or private. Do that for 16 years - that's $184,000. You'll lose some for administration, and there would be a special fund for children with special needs, but you're left with $30,000 for tertiary. If you do well at tertiary exams, you get another 50,000 - 80,000 total for university or other training."
The account can be kept running for the duration of a person's life to use for lifelong learning.
"You can borrow from it, it can go negative and you pay it off. If you still have some when you're 65 you can cash it out. So you could be very rich, but uneducated."
He says his education policy and introducing more charter schools would transform people's lives and make the country wealthier.
"A kid at a charter school came up to me and said 'I never knew I was smart until I came here'. Isn't that incredible?"
Seymour wants to see a Government that is also smarter around public health and spending.
"The DHB model has been a failure. We have too many, and they're just not sophisticated enough to do the job. Most of them are in huge deficit."
He believes reducing the total number of DHBs to six would be a more successful model.
"People are worried about debt. No party's governed alone under MMP in Germany or New Zealand. You're always going to be a partner with somebody, so what's realistic is a much larger ACT party with a much bigger voice for people that want to reduce spending by government. The best way to get more ACT MPs is to get more party votes."
Proud of his Maori heritage, he chooses not to make a big thing of it.
"It's part of who I am. I'm very comfortable in a modern New Zealand. But my view is that every human has the same rights before the law. Culture's a private matter. ACT's freedom-oriented policies are good for Maori because they're good for everybody.
"A number one issue I think for Maori is ultimately, can you afford a warm, dry house that's big enough for all the people living in it? Not just for Maori, it's an issue for everyone, but if you solve it, you help Maori too."
A favourite activity is making pizza from scratch, with a few toppings and full of flavour.
"It's really nice kneading the dough. You can make a much better pizza from fresh dough than you can from any other source."
He has one very certain election promise.
"Tell everyone if you vote for me I won't dance again. In fact, if it wasn't for so many people texting in and voting for me [on Dances with the Stars], I would have finished dancing earlier. It wasn't my fault people kept voting for me."
More on SunLive...