Whakatane sailor embraces officer rank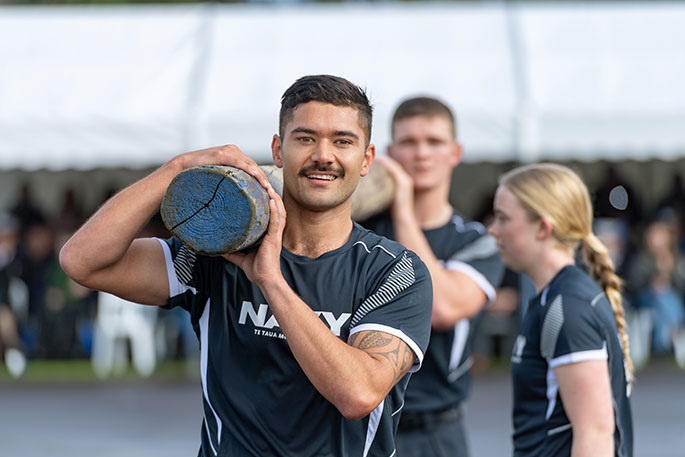 Midshipman George Sinclair is a laid-back, easy-going guy. It meant he didn't have a plan after leaving Whakatane's Trident High School, but the Royal New Zealand Navy opened up a world of opportunity.
"Mum and Dad said, if you're staying around, you're going to have to start paying rent. So, I thought I better get my act together. A friend was joining the Royal New Zealand Navy and I got in six months after him."
On Saturday, July 18, at Devonport Naval Base, Midshipman Sinclair graduated as a Weapon Engineer from officer intake 20/01, but it wasn't his first graduation. He had previously joined the RNZN as a sailor in 2009 as an Electrical Technician.
"When I joined, I found I liked it. If I was to describe myself at school, I was just an average person. I played sports and worked at the supermarket after school."
There's not much time in training to reflect on homesickness, he says.
"When people said they were homesick, I said, I don't have time for that, I've got ironing to do. It's about cracking on, getting ready for the next day."
He chose the Electrician trade to pursue a qualification and rose to the senior rank of Petty Officer. He has travelled to Hawaii, South East Asia, Antarctica and the Pacific Islands.
"It was always in the back of my mind to become an officer," he says. "It's opened up more options. As a rating you tend to stick with one branch. An officer has more freedom."
His time in the Navy as a senior rating meant he only had to do the final eight weeks of the five-and-a-half month Junior Officer Common Training course. His experience and rank meant he was promoted to Sub Lieutenant after graduation.
Weapon Engineering is a logical extension of his electronics training. "You're working on frigates, with a good bunch of people. They're level-headed people, smart, diverse, interesting. It's a group I'd get along with."
Newly promoted Sub Lieutenant George Sinclair, following graduation.
He might have once been a "coaster" and acknowledges he's still a laid-back guy, but he loves the intensity of his work and the challenges in the Navy.
"I know the reasons I joined are pretty light. But it's about the reasons I stayed. It's the travel, the unique experiences available, a system of personal and professional development. It's the friends you make. It's a very inclusive culture and very diverse.
"You could be doing disaster relief one day, and then cleaning a toilet the next day. There are many good days, but also, many tough days. So if you have the resilience to handle that, and live for the good days, you should join up."
When asked what his family thought about their son joining the Navy, he laughs. "I think it was more about relief. I think they were really worried about what I was going to do in life – and whether I was going to move out!"
More on SunLive...