It's Armageddon for university esports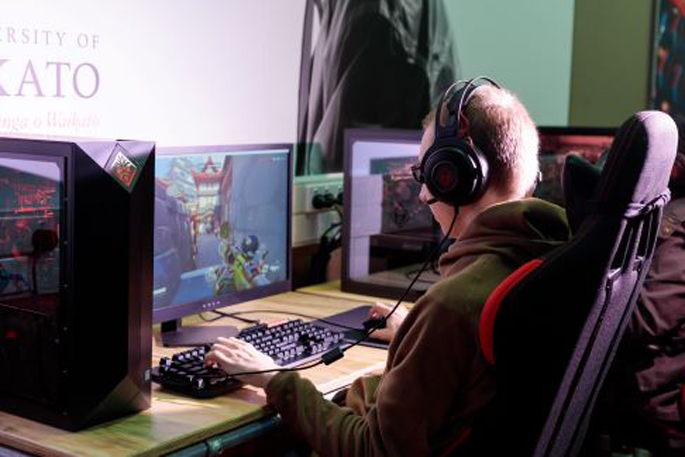 The University of Waikato will show esports enthusiasts attending Tauranga's Armageddon Expo how to turn their passion into a career this weekend.
They will host three esports tournaments at the Baypark Arena venue – League of Legends, FIFA 2020, and Formula 1 2019.
Competitions are single-elimination knockout and participants simply sign up on the day. Each team will have three players and a caster will provide real-time analysis of the games.
A viewing area will provide plenty of space for spectators to watch the action unfold and student advisors will be on hand to discuss how studying at the University of Waikato opens up pathways into the esports industry.
Career opportunities include software development, animation engineering, content creation, digital marketing and production, to name a few.
Tom Featonby, Esports Coordinator and Manager of the University's OMEN Esports Arena, says he's excited to bring University of Waikato Esports to Tauranga Armageddon for the first time.
"It gives us an incredible opportunity to show off what we're doing and really engage with the wider gaming and pop culture community in New Zealand," he says.
"Last year, we teamed up with OMEN (Hewlett Packard's gaming brand) and PB Technologies to open the OMEN Esports Arena – New Zealand's first dedicated university space for esports. This year, we have awarded the second 2degrees Esports Scholarship for School Leavers and have created an esports community that continues to grow."
With applications for the 2021 scholarship closing in just over a month's time on 31 August, the expo offers students the opportunity to see what esports at Waikato is all about.
Last year's inaugural scholarship recipient, former Tauranga Boys' College student Ryan Holt, will be onsite at Armageddon on Sunday to support the tournament and share his experience with gamers keen to follow in his footsteps.
Ryan's thriving in his second year at Waikato studying a Bachelor of Computing and Mathematical Sciences, and plans to work in game design one day.
Tickets for Tauranga Armageddon are available from iticket https://www.iticket.co.nz/events/2020/jul/tauranga-armageddon
More on SunLive...