Otumoetai's cookie master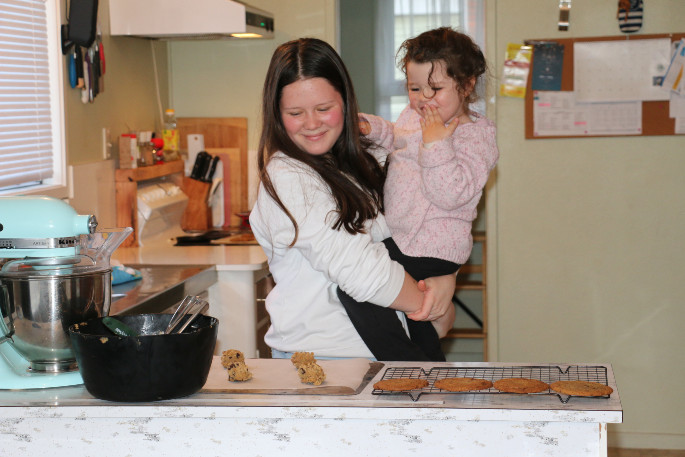 Perfecting several versions of a chocolate chip cookie and mastering the ganache drip over a cake is how 15-year-old Lily Harvey likes to spend her spare time.
This is much to the delight of her schoolmates at Otumoetai College, who get to try Lily's kitchen creations which range from classic lamingtons to multi-layer vanilla and cookie dough cakes – on a regular basis.
"I like seeing people's faces when they take the first bite, because it makes them smile," says Lily.
"If someone's having a bad day, giving them a cookie can make it much better."
Possibly the biggest fan of Lily's baking is her three-year-old sister, Kyla Morgan.
Mid-interview, Lily had to wake up Kyla from her afternoon nap. Carrying her into a room of chatting people didn't do the trick, but saying: "Kyla, want a cookie?" had her eyes sleepily open with an excited: "yep!"
Kyla then pointed proudly to her sister's batches of cookies, with the instruction to: "look at the round ones and the big ones and these ones..."
Lily's love of baking isn't what most would consider a casual hobby. In just over a year, she has posted 68 photos of different bakes on her Instagram page, @lily_bakes14 – and that's not even all of them.
She has been avidly baking for two years.
"When I got my first phone, I started watching baking videos and decided to give it a try.
"My first batch of cookies was a disaster but I had fun making them, so I decided to keep going."
The once-disaster has become Lily's signature bake and a favourite amongst her school friends. Her collection of favourite recipes features seven different versions of chocolate chip cookies.
Commitment to trial and error and some self-proclaimed perfectionism has given Lily more than a few tricks up her sleeve.
"The secret to a good cookie is using brown butter, freezing the mixture and not being afraid to add espresso powder."
Somewhat unsurprisingly, Lily hopes to study culinary arts when she leaves school and eventually open her own bakery.
"And if that doesn't work, maybe I'll be a chef."
More on SunLive...