Please help find Wilson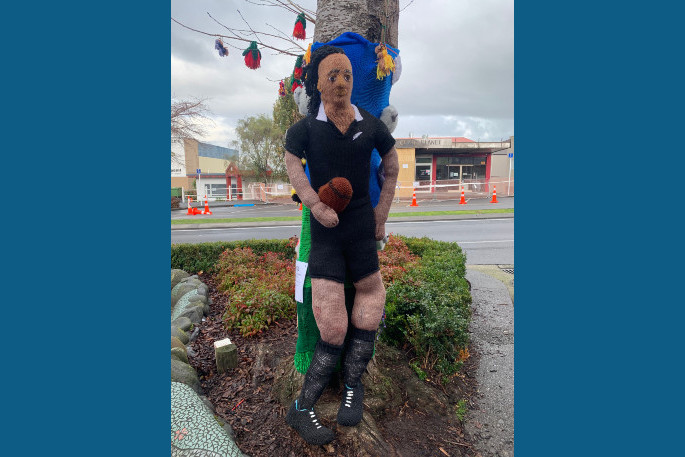 The public are being asked to help find 'Wilson' a knitted rugby player who was ripped off a yarn bombed tree in Greerton Village on Thursday night.
The heart breaking news was delivered to Arohanui Trust General Manager Peter Gibson on Friday.
"Please help us find Wilson," says Peter. "We think some dirty scumbag has come along and ripped him off."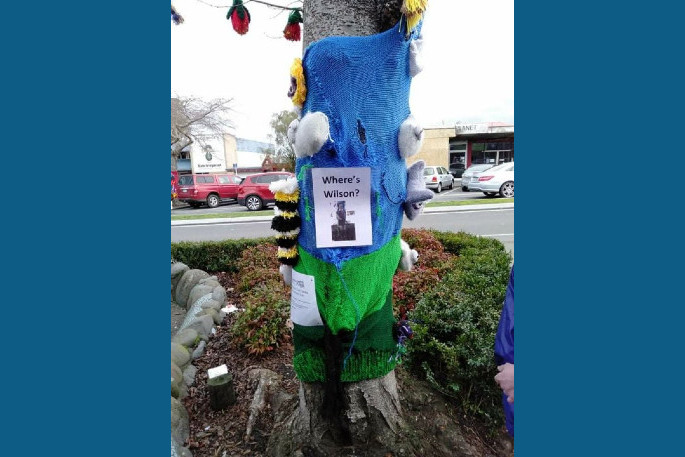 'Wilson', the knitted rugby player attached to this tree, has been stolen. Photo: Supplied
The yarn bombing community project has been a part of the activities for the Arohanui Art & Education Trust Greerton Centre for a number of years now, says Peter.
"This year we went all out. The theme was 'kiwiana' and we nicknamed the rugby player 'Wilson'.
Arohanui Art & Education Trust which also has centres in Gate Pa and Te Puke, provides services for adults with disabilities in Tauranga and Te Puke.
"The yarnbombing was part of our mainstream programme. It's a community project that we've been involved in for a number of years. Our people with disabilities have worked on our design for about six months over the Covid lockdown.
"We were trying really hard for the guys to win the prize, so we could get some sensory equipment and some bits and pieces," says Peter, who has yet to break the sad news about Wilson to his staff and clients.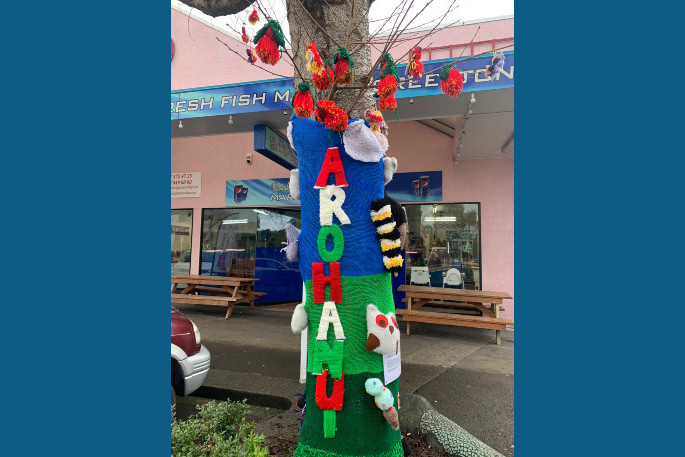 The other side of the Arohanui Trust tree
Each of the trees in the Greerton Village Yarn Bombing competition can be voted for in an online voting form. The winning tree will take away a significant amount of money for their chosen NZ charity thanks to the generous sponsorship of Crockford Real Estate t/a Ray White Greerton.
This year's theme 'Aotearoa: What it Means to me' has resonated with many people viewing the designs in Greerton Village, and it was particularly appropriate given the pandemic across the world.
"The prize money would have gone towards the clients, and we would have bought them some equipment for the sensory room, or just some resources that we need," says Peter.
The charitable trust was hoping to garner enough public votes to win the prize this year.
"At the moment we're setting up a woodworking project for some of the people at the Greerton Centre. We want to buy some machinery for that and make it safe.
"We also have a multi-sensory room, for which we want to update iPads and handheld equipment that have a tactile sensory aspect –we want to make sensory boards and tactile boards and things like that."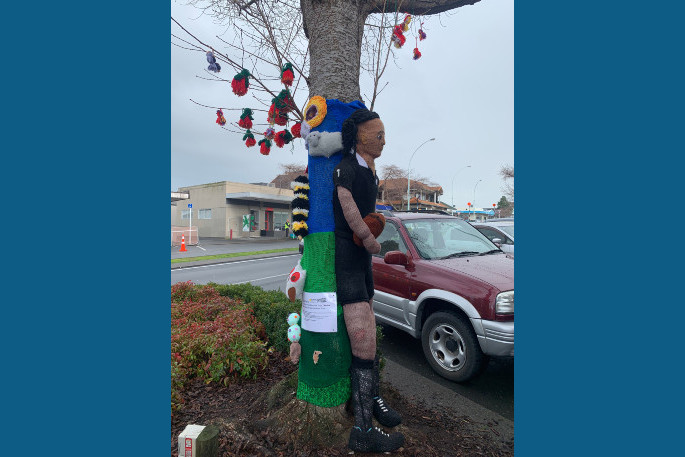 The Arohanui Trust tree with Wilson attached, before he was stolen on Thursday night.
Peter says that staff also helped with creating their yarn bombing tree design.
"The whole theme was around the rugby player. The people who did the knitting are the people who have special needs. They also have support from staff and they all like to contribute, whether it's on a knitting machine or knitting together with knitting needles and crochet."
The trust provides services to about 70 families in the Tauranga and Te Puke area, with about 25 staff working across the three centres.
"They come to us for day services during the day, Monday to Friday. It's a life-skills community based programme."
Arohanui Trust has been running for about 20 years since 1999. Programmes include art and craft programmes, and foundation life skills such as cooking, sewing, literacy and numeracy, computers, social and grooming skills and personal development. There is the opportunity for community volunteering with food bans, Meals on Wheels, Cancer Society, red Cross, Blind Foundation and rest home visits, and community outings where the organisation looks at what is happening in the community and where possible has a policy of 'community based activities first'. Work experience, employment options, recreation, well-being, and a transition service from the last year of school to Arohanui services are also provided.
"It wasn't very nice. Please help us find Wilson," says Peter, who says it was only the Greerton centre involved in doing the yarn bombing.
"We're quite frugal. We try and make money go as far as we can when we fundraise, and we look at different inventive ways for coming up with things that people like."
Peter contacted Tauranga City Council on Friday about lunch time to ask for help.
"I sent an email through to Council to see if they can check the CTV. I haven't heard back from them as of yet.
"It's just disappointing that people would do something like that. Our clients are going to be very disappointed too, knowing that it's gone.
"We'll let them know on Monday."
He says the rugby player was named Wilson after Wilson in the Tom Hanks movie.
"When they were making the head, it reminded me of Wilson in Tom Hanks' movie "Castaway'," says Peter. "That's how that came about."
Anyone who took Wilson or who knows his whereabouts is asked to leave Wilson at the base of the tree, no questions asked, or return him to one of the shops nearby. Anyone wanting to vote for the Arohanui tree - tree 15 in the competition - can still do so by clicking here.
The trees are on full display now in Greerton Village until August 23. Manual voting is available at eight locations in Greerton Village - look out for the window posters to see where, or to vote online click here. Voting closes at 10am on Friday August 14, and winners will be announced on Monday August 17.
More on SunLive...