Blindness no barrier for Tauranga runner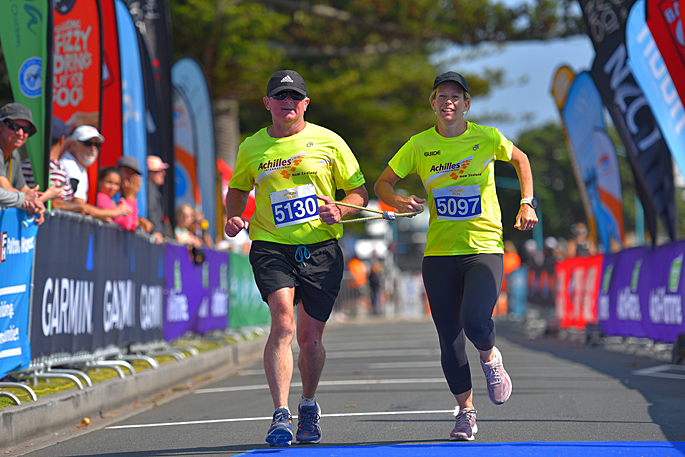 Hitting the pavement for a run is something most people can do, it's really only fitness level that holds someone back.
For Tauranga man Stevie Jensen going for a run isn't that simple – he is deaf and blind so needs a guide to be able to run.
He runs using a 40cm rope tether with his guide calling out directions or any obstacles. His high powered hearing aids enable him to hear the calls in good conditions, if it's too windy he struggles to hear, says his main guide Nikki Wilson.
"When we're running along if the conditions are perfect and it's not glary, he can see really, really big shadows and obvious contrasting.
"I have to assume for safety that he can see nothing. So it's pretty much just really loud verbal cues, and often just pulling on the rope, pulling him round objects."
The pair belong to the Tauranga chapter of Achilles International, an organisation operating in 25 countries with a mission to enable people with disabilities to participate in mainstream running events.
Stevie and Achilles chapter leader Nikki planned to run the New York Marathon in November but the COVID-19 pandemic has cancelled their trip.
"Here's a guy reaching his ultimate dream and then it's just been put on hold, had absolute brakes put on it. But he's just amazing.
"For me, guiding Stevie, it's never been about the New York City marathon, it's always been about increasing his self-confidence and self-esteem."
Nikki has seen his confidence increase immensely saying Stevie often wouldn't speak to people very much but now he chats away with great confidence.
The New York Marathon is the largest coming together of Achilles International runners, says Nikki.
"For him to come together with so many thousands of other Achilles athletes was going to be amazing. They make a real fuss of you over in New York."
Nikki says for now they are focussing on building their mileage back up after lockdown as Stevie was unable to run during that time.
To lessen the blow and fundraise Achilles International is holding a virtual event, where able and disabled runners can enter to run 5kms or 10 miles and upload photos and their time online.
Stevie and Nikki are running their 5km this weekend, Stevie was the first person in New Zealand to sign up.
They are starting at the Historic Village carpark at 10am on Sunday, July 19 and encourage others to join them and sign up to the event.
Anyone can enter the Achilles virtual hope and possibility run from July 18 to 26.
To sign up visit the Achilles International website for more information about Achilles Tauranga visit their Facebook page.
More on SunLive...