Half of Coromandel inaccessible - Civil defence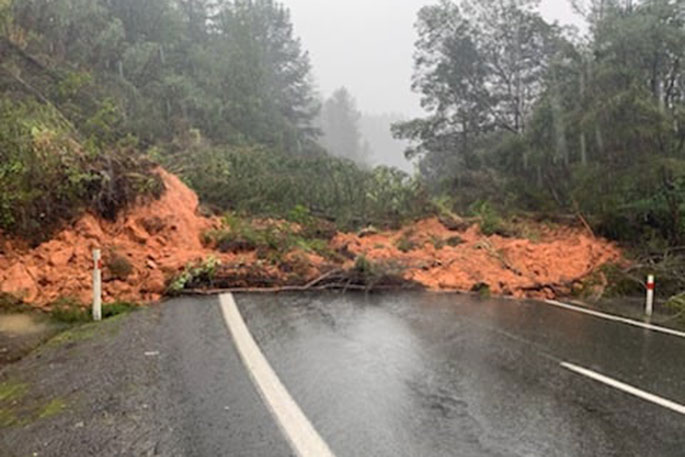 Flooding in the Coromandel Peninsula has eased overnight but several roads remain closed and farms are still under water.
The region took a battering yesterday, with floods cutting off the settlement of Hikuai near Pauanui and forcing stranded travellers to escape in a Surf Life Saving rescue boat.
MetService says the region had 410mm of rain in 24 hours.
Sections of State Highway 25 remain closed by slips and flooding.
Civil defence controller Garry Towler says the region saw considerable rain and damage.
"Being a prolonged storm - it started raining on Tuesday - this one has dealt us quite a blow."
Eight roads are still closed - three on the state highway network, and five local roads.
"The eastern seaboard on the Coromandel, from Pauanui, Hikuai to Whitianga is closed. It will probably be closed for a good few hours," he told Morning Report.
Tairua and Whangamata also bore the brunt of the storm.
"There's a major slip on the Kopu Hikuai road - that's also closed at present. Pretty much 50 per cent of the Coromandel is inaccessible at the moment. Hopefully, the roads will start to clear by midday."
He says travellers to and from the Coromandel could still use the Thames Coast road, which is clear.
"But there are slips everywhere ... all the roads have got some slips, trees down.
"The worst of the weather has cleared."
The weather warning remained, but they are expecting some rain today.
"We still have a lot of wind, it is quite gusty."
There were several power outages yesterday, but he said it was repaired.
Towler knew of a farmer who had 250 acres under water this morning.
"It's quite considerable. That surface water will drain quickly with the tides, but hopefully, it won't do much pastoral damage.
"The farmers have certainly copped it this time around."
Sam Clarke's farm in Hikuai is underwater but they managed to shift the 220 dairy cows to higher ground yesterday.
"It is the biggest flood I've seen since I've been here. It was really ripping out."
He said there was good warning and they managed to get the stock to safety.
"There's been a few slips on the hills, the biggest worry is silt damage and fences from those big logs. It's going to be a bit of a mess."
At the moment, 50 per cent of the farm is underwater, but in the height of the flood it was about 70 per cent.
He says in the deepest party the water is about three or four metres.
More on SunLive...