Is it bothering or begging in Greerton?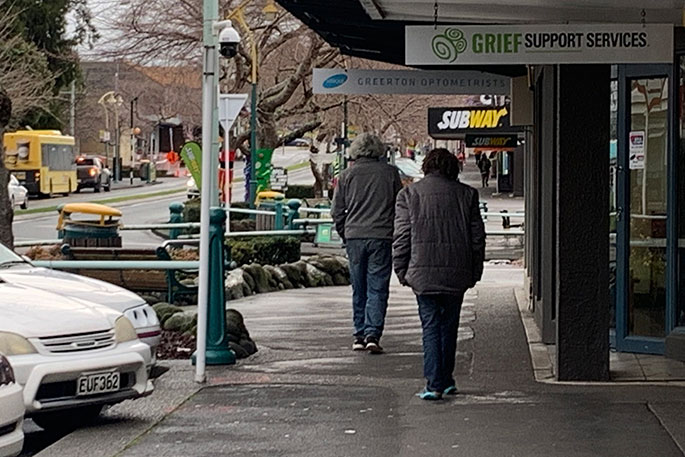 Greerton Village retailers are thrilled with the overwhelming support they've received from the public after lockdown, but one headache is unfortunately impacting the whole village.
"We've had a couple of nuisance beggars that have decided to come back to Greerton," says Sue Blomquist from Blomquist Bakery.
"We know they've got a house to live in and have support services around them. We know they receive a benefit but they just apparently like begging."
Sue says the pair, a man and woman, who have already been trespassed from the nearby Gate Pa shopping centre are knocking nearly daily on Greerton shopper's car windows before they even have a chance to get out of their car.
"They're harassing our customers in Greerton again. They are only asking for $1 but they are getting hundreds of $1 coins," says Sue.
"And they come into our businesses to cash their coins. They have so much coin that they need to transfer it to notes so they can carry it around."
The Weekend Sun drove to Greerton Village to observe, and had just parked up when there was a tap on the window.
"Spare a dollar for a pie?" asked one of the pair, who was holding three bags of bread.
"Have you got no money?" asked our reporter.
"No."
"But you've got some food?"
"Well I was given it, because they feel sorry for us," says the man.
"We need something to eat. We only get enough to pay the rent and power."
The couple say they receive help from social services and are aware they get a lot of complaints from Greerton Village shop owners and shoppers.
"We're not allowed around here. Especially on Mondays to Fridays. And not on Saturdays. Or Sundays."
Later around the corner, the man wandered past the Weekend Sun reporter's car, turned to the wall, urinated onto the footpath about two metres away, then turned to go to another parked car where he was given a $5 note from the driver who hadn't witnessed what had just happened.
On questioning by The Weekend Sun, the driver said they had given the money because they thought the man was homeless.
The duo have also been seen taking the free bus ride to the Ohauiti, Welcome Bay and Fraser Cove shops to continue their window tapping money requests there.
"What we're asking our customers is please don't give them money," says Sue. "Because that's not helping them.
"You give them food, they throw it in the bin. They're just a nuisance. If the public stop giving them money, then hopefully they will go off and stop hassling us here."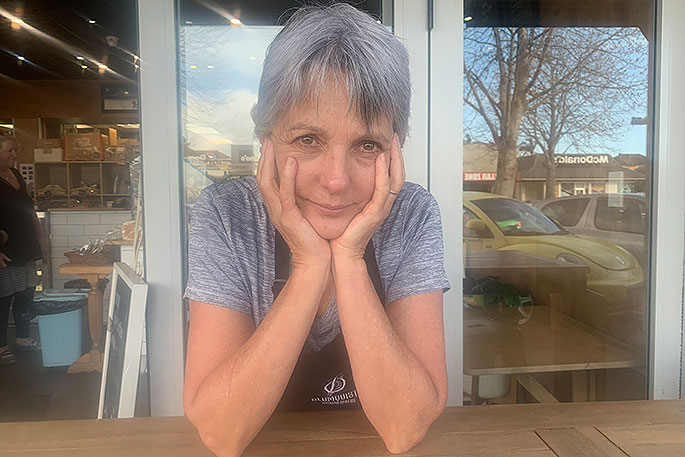 Sue Blomquist from Blomquist Bakery.
Sue says the retailers are disappointed that the Street Use and Public Places Bylaw 2018 didn't come through with the result as they would have liked.
"And this is just another kick in the guts. We don't need it. We just had a rough time through Covid and this is the last thing we need.
"We want the people in Greerton to understand they're not actually helping by giving to these nuisance beggars. All we're asking is for the public and our customers to stop giving them just $1. They're just being a public nuisance."
Sue says the situation has been going on since the retailers opened their doors again at Alert Level 3.
"We had such wonderful amazing support from our lovely customers when we opened after Covid. Customers we haven't seen for a while, they're driven across town to specifically come and spend in our stores with Buy Local which we're absolutely amazed by, we're so grateful.
"We don't need this, times have been hard enough. It's just coming right and I'm just scared that it's going to go back to what it was when we were trying to pass that bylaw."
Jane Wickham who shops frequently in Greerton, says the pair have asked her for money many times.
"Oodles of times. It's really annoying. They don't say 'please'. It's always 'a dollar?' The other day I said I'm not giving you anything, stop begging."
Judy Wood at BNZ is also appreciative of the customer loyalty and community support after Greerton retailers reopened after lockdown.
"Amazing. People who have moved to the Mount and Matua are going out of their way to come here. We're just blown away."
She too has asked the pair to move along when she's found them hovering around outside the bank.
"If I see them out there, I'm going to move them along. I tell them you're being a nuisance, we know you have somewhere to live, we know that you are not hungry. Some people have offered them food, but they don't want it, they want money.
"Greerton businesses have told me they're doing really well, and we want to keep it that way."
More on SunLive...