Traffic complicating storm management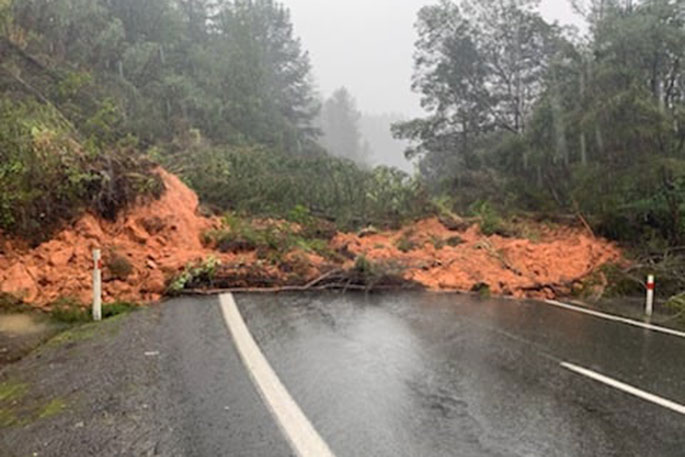 Roading contractors are frustrated at the huge volumes of traffic still on the roads and not heeding the warnings to avoid travel today if at all possible, says the Thames Coromandel District Council.
MetService and NZTA have provided updates and the region is in for another bout of heavy rain and wind with further road closures.
"The entire Coromandel is getting battered and everyone needs to heed the warnings, stay off the roads and sit this out until tomorrow," says Civil Defence Controller Garry Towler.
"It is going to get worse before things improve and high tide will undoubtably bring more closures so let's not put our contractors at further risk."
Another 140mm is forecast for the Coromandel over the next 12 hours bringing the total accumulated rainfall to around 300mm. All rivers in the Coromandel and Hauraki catchments are nearing or at capacity.
Winds gusting to 100kmh will continue into tonight and further power outages are expected as trees and roofs come down on the network.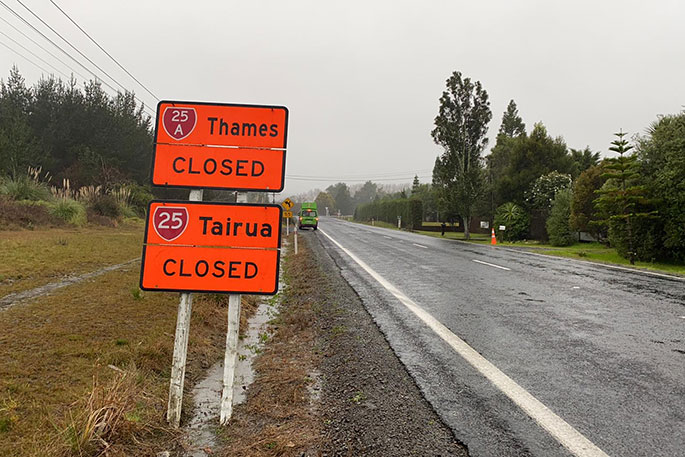 Roads closed:
• SH25 Hikuai to Whangamata - Due to a slip between SH25A and McBeth Rd. (Photo right: Lillana Jacobs - Facebook).

• SH25 Whitianga to Tairua is closed at Wade Road due to flooding. Avoid the area or delay your journey if possible, as more wet weather will coincide with high-tide this afternoon (3.40pm).

• Hikuai Settlement Rd, Pauanui – Closed due to flooding.

• Port Jackson Rd – Closed at 19km point due to a large slip.

• Wentworth Valley Road - Closed due to flooding.

• Fletcher Bay Rd – Closed due to a slip

• Colville Road - two slips from recent weather events mean the road is only open to one lane in places (2.8km south of Papa Aroha and 2.9km north of Waitete Bay). Stop/go traffic management is in place so please drive with caution.

• More Close, Totara, Thames is down to one lane due to a fallen tree.

• There are reports of trees across the Thames Coast Road and therefore down to one-lane in the following locations:

• - Northbound lane on Thames Coast Road coast between Little Waikawau and Waikawau Bay

• - Southbound lane on Thames Coast Road between Tararu and Whakatete Bay.

• Stop/go traffic management is in place throughout our district while the roads are cleared from storm damage. Please delay your travel until tomorrow when the storm has passed so the contractors can get to work quickly and safely
The roads are being closely monitored as high tide at 3.40pm approaches.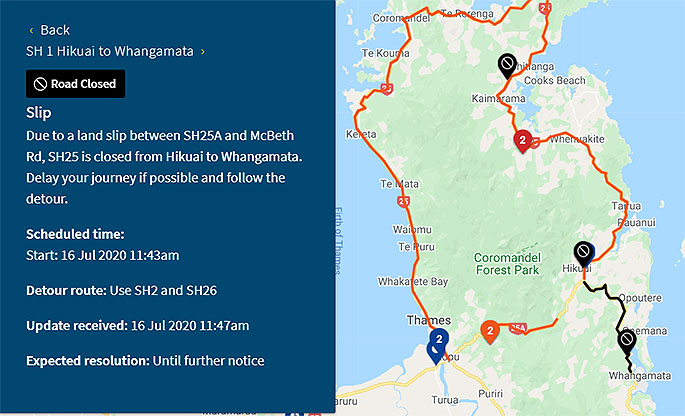 Other updates:
• Pauanui waterways playground opening planned for tomorrow is cancelled.

• Thames Centennial Pool is closed today due to the high winds.
The planned water shutdowns scheduled for today have been postponed.
Stay up-to-date:
Weather updates - MetService.
High tide - Thursday 16 July:
• Thames - 3:40pm, 3.0m

• Whitianga - 3:39pm 1.8m
State Highways (SH25, SH25A, SH26 in the Coromandel) - NZTA. You can also call NZTA on 0800 4 HIGHWAYS (0800 44 44 49) for traffic and travel information. You can use their journey-planning website to plan the best route for your journey, taking into account known issues and traffic on state highways.
Council roads - We will post regular updates on our Council's Facebook page as well as on our website and email newsletters. If you see an issue that needs attention, call us on 07 868 0200.
Local radio - Check stations and frequencies here.
Red Cross Hazards App - alerts about hazards. Download from the App Store or Google Play.
Emergency Mobile Alert - these can be sent to your mobile phone, without needing to download an app or sign up. Check if your phone is capable of receiving them, here
Waikato Regional Council has set up an online hub for rainfall and flood-related information to help people more easily keep up to date with severe weather events in the region. It can be found here.
Also follow Waikato Civil Defence on Facebook here and check out their website for updates here.
Know your neighbours - phone each other in an emergency, especially vulnerable people, to check if they're OK.
To report a power outage contact your electricity retailer (the company you pay your bill to). Information about current power cuts can be found here.
For more on these channels, and other information about staying informed in emergencies, go to the Civil Defence "Never Happens" website.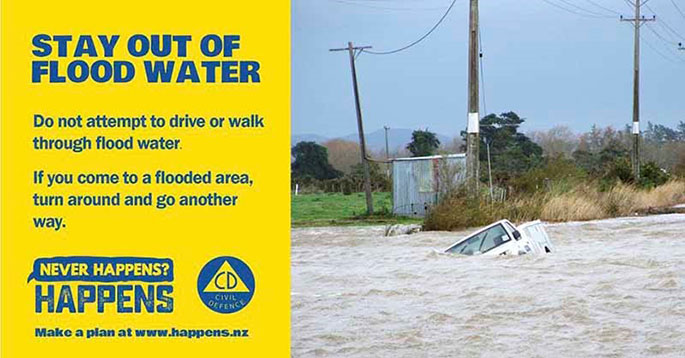 More on SunLive...