Collins and Brownlee take National Party top spots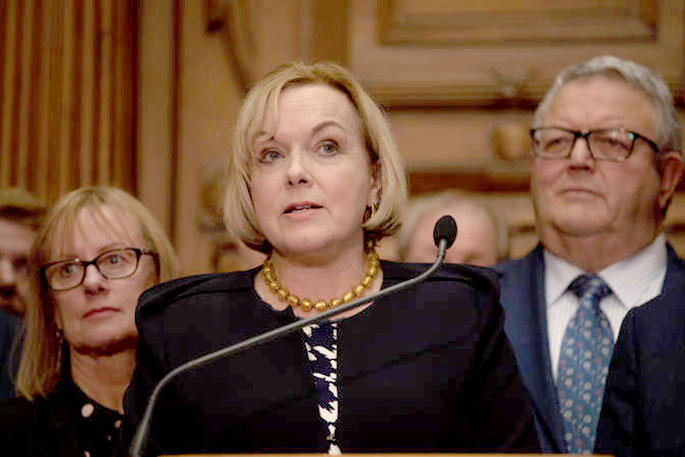 Judith Collins has been elected Leader of the New Zealand National Party.
Gerry Brownlee has been elected as her Deputy.
"I feel privileged to have been chosen to lead the National Party at this important time in our history," says Collins in a statement released following last night's caucus meeting.
"My focus as leader will be helping rebuild our communities and dealing with the economic and jobs crisis by getting Kiwis back to work.
"Only National has the experience and skills to get us through this. We are a strong team and I look forwarding to forming the next Government."
Collins and Brownlee have been elected following the shock resignation of Todd Muller.
Early yesterday morning, Muller, who is the MP for the Bay of Plenty, announced he was resigning as the leader of the Opposition effective immediately.
"It has become clear to me that I am not the best person to be Leader of the Opposition and Leader of the New Zealand National Party at this critical time for New Zealand.
"It is more important than ever that the New Zealand National Party has a leader who is comfortable in the role."
Todd says the role has taken a heavy toll on him personally, and on his family.
"This has become untenable from a health perspective."
Collins, 61, was first elected as an MP for Clevedon in 2002 and has been part of six Parliaments.
"I think it's really important that we all have a common goal ... to get rid of the current government and put in place a better government," she said after emerging from the caucus meeting last night.
"One of the things that unifies any party is if they see that we're getting the results that we want ... I think you're going to find that we're very focused on winning.
"There is no chance at all that I am going to allow ... Ardern to get away with any nonsense to do with our economy. I am going to hold her to account.
"I would say experience, toughness, the ability to make decisions ... that would be myself. Jacinda Ardern is someone we should not ever underestimate."
"We're actually better. If you look at our team, our experience ... it's all better than Jacinda Ardern and her team."
She says the party's policies would not see any major changes.
More on SunLive...