New pavilion a step up for Omokoroa community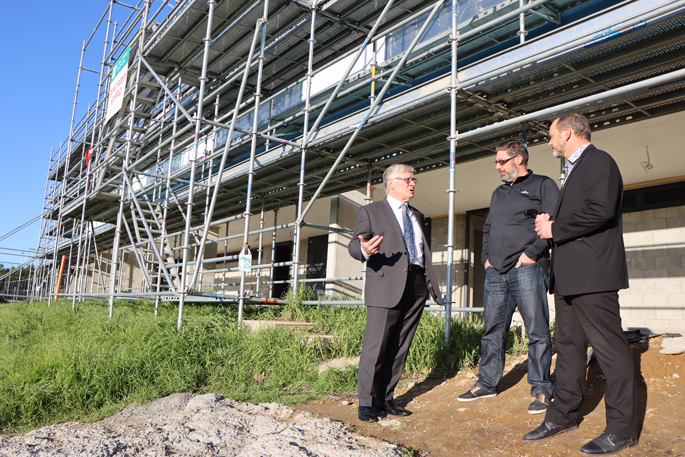 After years of having nowhere to change after a sports game, the Omokoroa will soon have a purpose built facility for the whole community.
The Omokoroa Sports pavilion, due to open at the end of August, has been about 10 years in the making.
The pavilion will have changing rooms, a referee's space, a social space, a large activity space and kitchen.
The Western Bay of Plenty District Council is also relocating the library and service centre from Kowai Grove to the front of the building on Western Avenue.
Mayor Garry Webber was on the community board in 2010 when the idea was first tossed around, and says they talked about the pavilion then as a way of future proofing the peninsula.
"To see it at this stage and to see younger families coming to live in our community, this is what we built this for.
"Our kids deserve this."
He says when you compare it to other facilities in the wider area, it's a great facility for the community and they are able to ensure longevity by adding more parking in years to come if needed.
"This is trying to future proof and there is so much logic of adding the library onto this facility."
The pavilion is the work of the Omokoroa Sports and Recreation Society, who have fundraised the $1.6 million for the building as well as getting grants.
The sports ground's current pavilion is a small hall with a sink and no toilets or changing rooms.
Omokoroa Sports and Recreation Society chair Richard Gerrish says the two pavilions are worlds apart.
"Having the space if you compare it to that little pavilion, we had down there, this is a big improvement.
"It's somewhere we can call home to all our recreation and the sporting groups. At the moment if you play football, you have nowhere to change you're out on the fields and we can actually start holding tournament's and stuff like that."
Local groups including bridge and mahjong will be able to use the activity space and it will be available to hire for events as well.
Funds for the pavilion have come from TECT, the Lotteries Commission, New Zealand Community Trust, Bay Trust, Wright Family Trust, the WBOPDC and the Omokoroa Community Board as well a fundraising from the sports and recreation society.
The society are continuing to fundraise to complete the interior and purchase equipment. For more information visit the Facebook page.
More on SunLive...