Tauranga CBD retail at "rock bottom"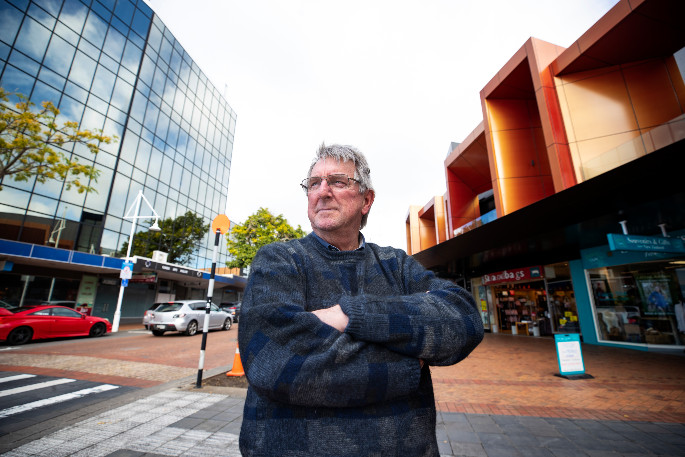 "I think we're about as low as we can go."
These are the words of Julie Hammon owner of Hammon Diamond Jewellers in the Tauranga CBD.
"The future is looking grim but it doesn't in any way sway my desire and determination to stay in the CBD and this is still where I firmly believe our future is."
This comes as a number of businesses have left or will be leaving the shopping district.
Recent departures from Devonport Rd include women's fashion stores moochi and Annah Stretton, clothing retailer Just Jeans and jewellers Michael Hill and Don Stewart. Men's fashion store Hallenstein Brothers is also preparing to close.
When the Weekend Sun walked the street we counted 29 empty businesses between Devonport Rd and The Strand, not including the empty high rise that sits at 2 Devonport Rd.
Julie, who is also on the Downtown Tauranga board, a not-for-profit organisation that represents the business members, says there might be another one or two businesses that will close but in real terms the CBD is at "rock bottom".
She says the economy over the next two to three months as people recover from COVID-19 will have an impact.
"I think people are being cautious at the moment, but I'm hopeful that it doesn't get any worse.
"I still think we've got a long way to go before we even think about any kind of improvement or recovery, we'll be damn ready when it happens."
Hammon Diamond Jewellers are on Grey St and Julie says business has been steady after lockdown. It is a different story for Fancy That on Devonport Rd with owner Bill Campbell saying trade has been terrible.
He says the best day of sales they have had since lockdown is $2200 but it can be as low as a $124 a day.
"It's hard sitting here all day and taking 120 bucks, it's depressing."
Bill says they have noticed a big decline in foot traffic and he thinks the only way to bring people back to the CBD is to offer three hours free parking.
"The reality of the problem is it's a lack of good accessible parking. And of course it's the cost, even though the cost is only $2 [per hour]. It's still a barrier for people coming to town.
"When they've got so many options and all the options supply free parking.
"We've been talking about this for the last, probably, 12 years and we keep saying: 'you will have nothing, the place will die'.
"I'm saying now: 'look, I told you so, look what's happened, it's dead'."
Annah Stretton clothing CEO Annah Stretton says they closed their store because there isn't enough foot traffic on Devonport Rd to enable a sustainable trading platform.
Two staff have been affected by the closure and Annah says the influence of COVID-19 and timing of the development of the city centre have also impacted the business.
Downtown Tauranga spokesperson Sally Cooke says they are concerned about the recent business closures.
"The city centre was in a fragile position going into COVID and as a consequence of COVID we're seeing even more vacancies and tenants reviewing their positions in the city centre. So absolutely, it's a critical concern to us."
She says the CBD has an occupancy rate of 75 per cent with 25 per cent of buildings empty or under construction.
Some of the vacancies are because the buildings are undergoing seismic strengthening, says Sally.
"Long-term the future looks bright for the city centre, but it's the immediate and midterm situation that we need to be addressing."
One of the recent measures to help business has been the Buy Local campaign, a collaboration between Downtown Tauranga, Mount Mainstreet and Greerton Villlage Mainstreet.
Julie says the campaign has been great and she wants people to continue supporting local business.
"The sentiment of keeping it local is definitely alive and well, we found a great response in that sense."
Activate Vacant Spaces is another Downtown Tauranga initiative that attracts temporary installations and pop up stores into the empty retail premises.
"Everything from activations to attracting temporary tenancies in some of those vacant spaces is critically important so that we can mitigate some of the vacant spaces with offerings that will encourage more people into the city centre," says Sally.
Priority One chief executive Nigel Tutt says the decline in the CBD is also because of Tauranga growing from a town to a city.
"Particularly a city with a few malls which comparatively offer a really good experience compared to your city retail.
"The old way of doing things where you might have pulled up to park in front of the shop to go and do something in - that's probably gone a bit. I think the resurgence of the Tauranga CBD will be more around people living here and working in the CBD."
What this potential shift in the CBD means for the remaining retailers is yet to be seen.
More on SunLive...