LIVE: No new cases of COVID reported today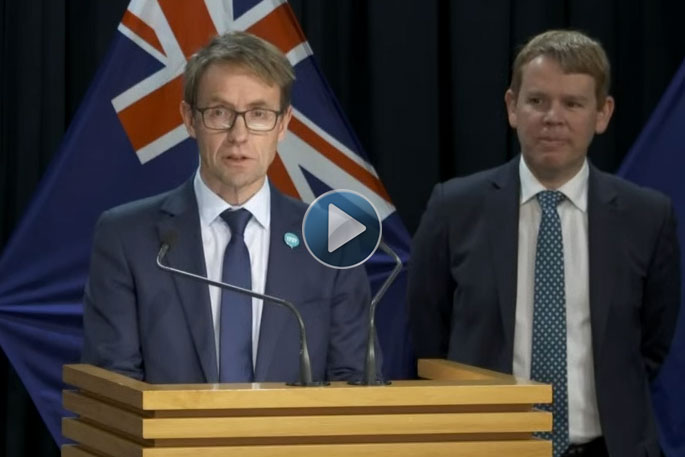 UPDATE: There are no new cases of COVID-19 to report in managed isolation in New Zealand today.
Director-General of Health Dr Ashley Bloomfield is delivering the latest update on the COVID-19 situation in New Zealand.
He is live from Wellington this afternoon and is joined by Health Minister Chris Hipkins.
"It has now been 73 days since the last case of COVID-19 was aquired locally from an unkown source.
"There are no new recovered cases and no cases that require hospitilisation."
Ashley says the number of active cases remains the same and sits at 25.
On Sunday, laboratories processed 1043 tests.
Ashley expects testing to increase this week.
The total number of tests carried out to date is now sitting at 429,643.
EARLIER:
The Minister of Health, Chris Hipkins and Director-General of Health, Dr Ashley Bloomfield, will provide an update to the media at 1pm about the current COVID-19 situation in New Zealand.
SunLive will provide updates throughout the afternoon for those who are not able to tune into the livestream.
What we know so far
On Sunday, there one new case of COVID-19 in a managed isolation facility, the Ministry of Health says.
The latest case was a woman in her 20s who recently returned from Rome, via Doha and Sydney on July 4 and was a close contact of another case.
She has been in managed isolation at the Christchurch Commodore Airport Hotel, and is now in quarantine.
As a result, a test conducted on day six of her isolation returned a positive result.
This case brings the total number of confirmed cases to 1194 – the number which is reported to the World Health Organisation.
The number of active COVID-19 cases sits at 25, with 428,600 tests completed to date.
It has been 72 days since the last case of the virus was acquired locally from an unknown source.
More on SunLive...