Activate Vacant Spaces programme back in action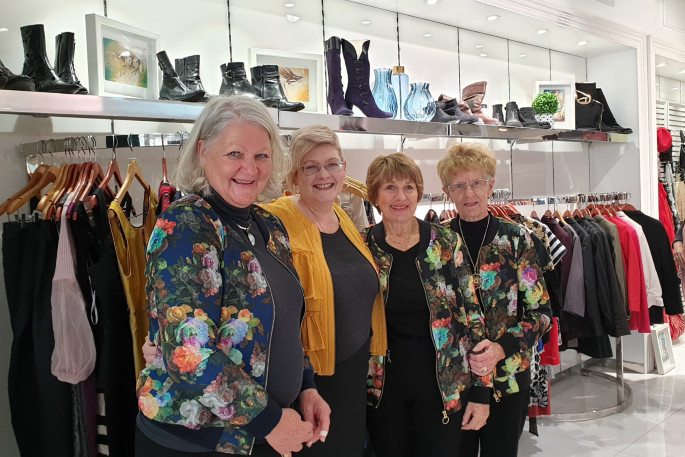 The reemergence of the Activate Vacant Spaces programme in Downtown Tauranga has got off to a flying start with the opening of a new social enterprise initiative and several exhibitions and activations in the city centre.
On Saturday, Classic Couture opened at 67 Devonport Road selling pre-loved and gently worn garments to help raise funds for Dress for Success Dress Bay of Plenty.
The space was located and brokered for them by the Activate Vacant Spaces Team and spokesperson Sally Cooke says they're delighted the social enterprise venture has been given a helping hand start thanks to a partnership with the property owner.
"An integral part of the Activate Vacant Spaces initiative is our relationship building with property owners in the city centre.
"The success of finding a suitable locations for this venture by Dress for Success is a great outcome for Activate Vacant Spaces, as it retains a great community minded initiative within the city centre and sees the programme working to attract, nurture and facilitate medium - long-term tenancies."
As the fundraising arm for Dress for Success, all funds raised instore will go directly towards supporting their redundancy and re-employment community programmes.
Through the Activate Vacant Spaces Programme the site was secured at no cost for the first 3 months to support Classic Couture to reach financial viability, with the aim of moving to a long-term lease.
Sally says the Activate Vacant Spaces programme is fulfilling its purpose.
"We have too many vacant store spaces, so our role is to match creative and entrepreneurial initiatives with those vacant spaces and develop an agreed partnership for exhibitions, installations and retail ventures.
"During COVID-19 lockdown we obviously had to put the Activate programme on hold, but having reignited it just a couple of weeks ago we are already back in action with some amazing installations and initiatives opening and soon to open in vacant spaces across the city centre."
Dress for Success BOP President Michelle Pleydell is pleased with about the doors opening at Classic Couture.
"At a time when charities are struggling deeply, especially when you are in the employment sector, it is so inspiring to know there are businesses around that are prepared to help. The Activate programme may literally be a lifeline for us."
In addition to the opening of Classic Coutures at 67 Devonport Road, the Tauranga Woodcrafters Exhibition is open in another vacant space at 50 Devonport Road, along with Envirohub BOP's Plastic Free July installation and workshop activation at 28 Devonport Road.
Envirohub's pop-up shop will run 1from 1am to 3pm, Monday to Friday, for the duration of the school holidays.
"We are proud to be on a committee which brings Plastic Free July to Aotearoa, along with other fantastic organisations around the country," says Liesel Carnie.
"We are running free workshops for kids and adults alike, every weekday at midday to help people become plastic free.
"We also have our Precious Plastics machine on display."
This machine can shred plastic which then can be used to recycle into any product.
"People can come down at any time to see the Precious Plastics Machine in action, learn about Plastic Free July and how they can get involved."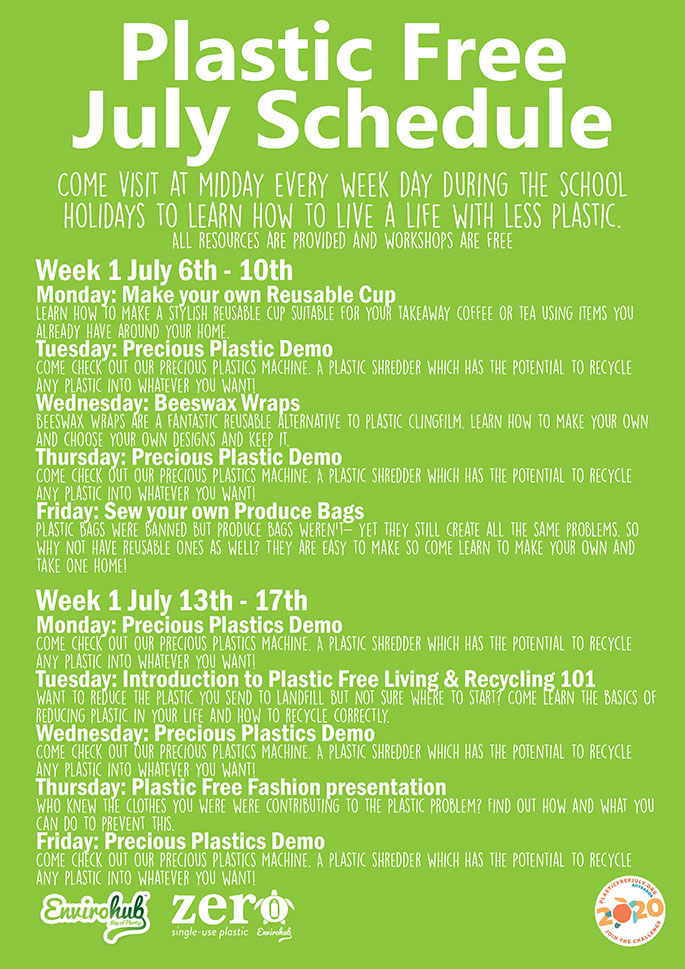 A full Plastic Free July workshop schedule.
Sally says they also have more than 20 other activations and installations scheduled to open in the coming weeks, as they match more vacant spaces with creative and entrepreneurial ideas.
"Yes we have lots of vacant spaces in the CBD and we are in a very volatile situation right now as a city centre, but through the Activate Vacant Spaces programme we can think differently, we can innovate and we can create unique and compelling new reasons to come to the city centre by partnering with our creative community," says Sally.
"This will also support those businesses who have stayed invested in the city centre through this time of transformational change."
Sally hopes the public come out and support this empowering venture and visit other city centre activations and businesses while they are there.
"Right now, our city centre businesses need support and they need us to buy local and buy Tauranga."
Creatives, community groups and entrepreneurs are encouraged to submit their ideas to the Activate Vacant Spaces Programme. For more information go to www.activatevacantspaces.co.nz
More on SunLive...