A chance of rain in the week ahead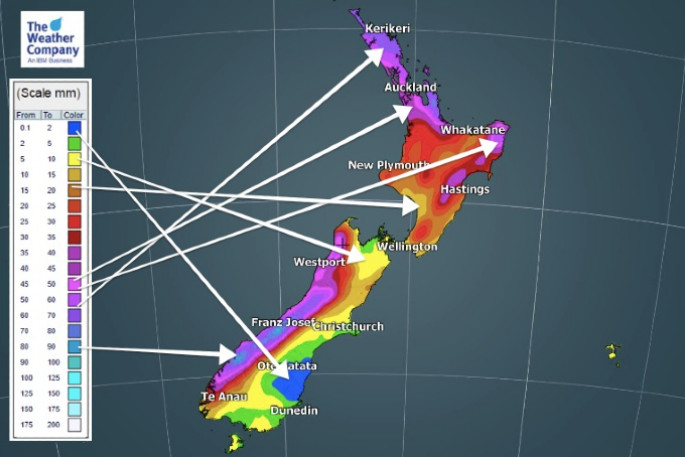 WeatherWatch reports that there is another chance for rain in the coming week for a number of North Island and western regions.
"This despite an uptick in high pressure," says a WeatherWatch spokesperson.
"The high pressure belt looks set to track southwards and allow a large but fairly weak Tasman Sea low to drift into the upper North Island. The eastern and southern South Island look to remain the driest parts of NZ in the coming week.
"If this low does move in later next week, as the models have been suggesting for days now, then this is more good news for Auckland's water storage issues."
WeatherWatch says that last month, they were the only forecaster to paint a more optimistic picture about rain for dry northern regions of the country.
"We were the first forecaster in 2019 to alert the nation to the developing drought too."
Despite the forecast rain, Auckland, along with several other regions in NZ, are still in a significant rainfall deficit from the past 18 months.
"For farmers and growers the forecast equals more positive news. In fact the weather over the past month has been a net positive for the economy and WeatherWatch.co.nz expects a generally positive run of weather for much of July in economic terms."
Today's weather forecast from WeatherWatch:
A westerly quarter airflow lies over New Zealand today, spinning out of a large anticyclone centred just to the northwest of the North Island in the Tasman Sea.

Northland, Auckland, Waikato & Bay Of Plenty
Partly cloudy with the odd shower at times, mainly in the west. Skies may be clear first thing in the morning out east before some cloud moves in. West to southwesterly breezes.
Highs: 13-15

Western North Island (including Central North Island)
Mostly cloudy with the odd spit or shower, west to northwesterly winds.
Highs: 10-14

Eastern North Island
Sunny weather after a cold start, light winds tend northwest in the afternoon.
Highs: 14-16

Wellington
Mostly sunny, a few clouds possible. Northwesterly winds.
High: 12-13

Marlborough & Nelson
Sunny weather. Light winds for Marlborough, southwesterlies for Nelson.
Highs: 13-14

Canterbury
Sunny weather, light winds.
Highs: 10-13

West Coast
Mostly cloudy with the odd shower, some rain moves into South Westland in the evening then further north overnight. Northwesterly winds.
Highs: 10-12

Southland & Otago
Cloudy areas for Southland, Otago has sunny areas and some high cloud. Northwesterly winds.
Highs: 11-12
More on SunLive...