Police Ten 7 springs big-day surprise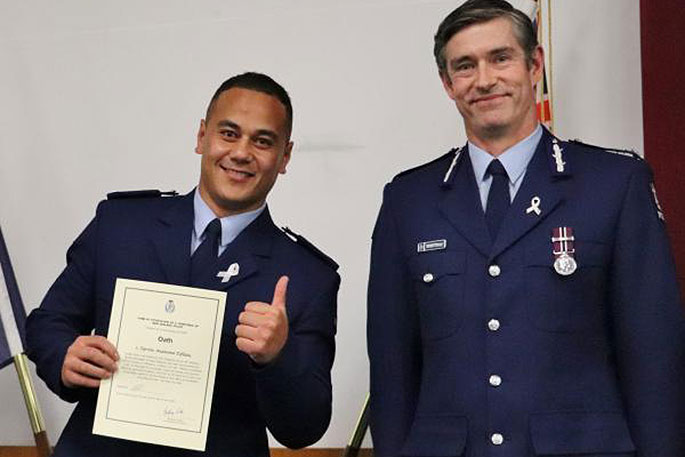 Graduation day can always spring a surprise - ask new Constable Tyrone Tofilau.
Tyrone achieved a long-held ambition to join Police when he graduated from Recruit Wing 337 last month.
Because of the COVID-19 restrictions, his family could not be there - but Police Ten 7 presenter Detective Sergeant Rob Lemoto could, in slightly unusual circumstances.
Rob, who is a Tauranga-based officer, had been filming with the Police Ten 7 team at a park in Otahuhu, South Auckland, when he ran into members of Tyrone's family.
"My aunt was in the park with other members of my family one day getting some exercise with the stereo blasting and apparently Rob and the filming team asked her to turn the music down – very politely, of course!" says Tyrone.
"She told Rob that I was graduating and she was sad that she couldn't come to graduation with my other family members due to COVID-19 Level 2 lockdown being in place.
"I had no idea that my family had bumped into Rob and I only found out the day he turned up to my graduation and told me that he'd met my family."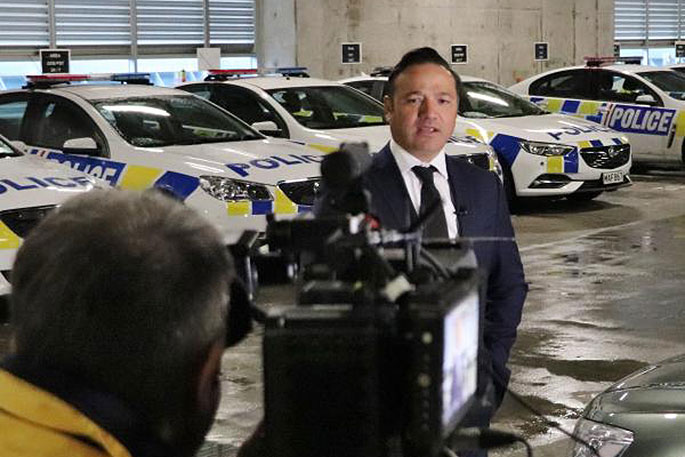 Rob Lemoto and the Police Ten 7 team filming at Wellington Central.
Family members had planned to send Tyrone a special gift for the day but it would not have made it in time so Rob said he'd go instead to greet Tyrone and his wingmates.
"The family had planned to send him a beautiful Samoan cloak via courier, but because it wouldn't have made it on time, they flagged the idea," says Rob.
"In the meantime we ended up filming Police Ten 7 in Wellington and I decided to go visit him at The Royal New Zealand Police College on graduation day as a surprise.
"It was great to meet Tyrone and tell him about the chance meeting in the park, and briefly talk to Wing 337. I am glad I took the time out to do that, as none of the graduates could have their family attend due to lockdown reasons. It was nice to be there for the whole wing of graduates.
Tyrone says he had thought about joining Police since leaving high school. He says his aim is to make a 'good frontline police officer' before considering specialising.
"It would've been nice to have our families there to celebrate our graduation into the Police - but I was very humbled to have met Rob," says Tyrone. "He was very kind and full of experiences to share.
"I'll be forever thankful to him and his crew for taking the time out of their busy schedule to meet me. Rob also gifted me with an official police badge on behalf of my family back in Auckland, which I was very grateful to receive."
Tyrone has two family members serving in Police and they both have helped and supported him through the processes from application to graduation. He also credits his family for the inspiration to join.
"The passing of my grandmother - who raised me - kept me going," he says. "She wanted me to pursue this career and I am proud to say that I finally did it."
Tyrone says he is glad to be part of the organisation - and will be watching Police Ten 7 more regularly now.
More on SunLive...