Property curve flattening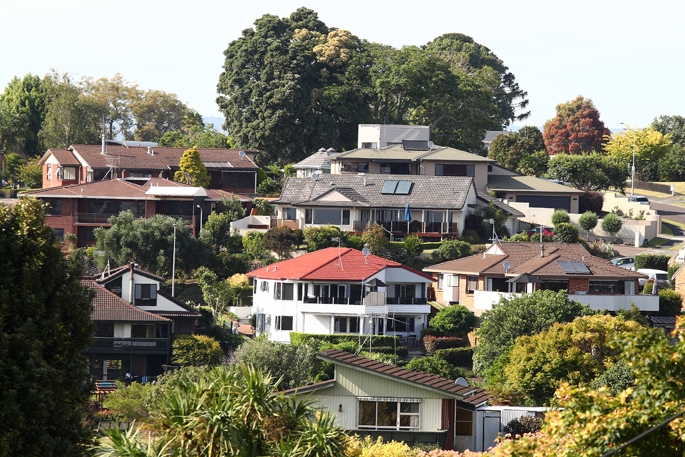 New Zealand's quicker than expected transition down the lockdown levels has provided a timely reprieve for the residential property market.
The real estate sector is reporting strong interest from vendors with listings back close to normal winter levels, while banks are reporting strong enquiry levels from potential buyers.
But is the resurgence sustainable?
"The QV House Price Data continues to reflect a gradual decline in quarterly growth in June, with 13 of the 16 major cities we monitor showing a reduction in the rate of growth since May," says QV General Manager David Nagel.
"This indicates the heat we saw in the market pre-lockdown gradually dissipating as the market begins to settle".
The average value nationally increased 1.3 per cent over the past three month period, down from 2.4 per cent in May, with the average value now sitting at $738,018.
This represents an increase of 7.4 per cent year on year, slightly down on annual growth of 7.7 per cent last month.
The average value in the Auckland Region sits at $1,082,541, up 1.5 per cent over the last quarter, and remains 5.4 per cent up year on year.
"A combination of pent up demand following lockdown, plus vast numbers of returning expats over the past few months has contributed to strong attendance at open homes, auctions and tenders in most locations throughout New Zealand.
"Record low interest rates have also helped to ensure prices have held up well so far with an active buyer pool dominated by investors and first home buyers.
"The resilience of the New Zealand economy as well as the property market has surprised many commentators, no doubt assisted by the country's rapid return to a new normal.
"But with government wage subsidies ending in September and many homeowners that sought relief from banks with mortgage holidays likely to feel some financial pressure heading into summer, the worst is still ahead of us," says David.
"We're seeing some early signs of value stress with the QV House Price Index in Queenstown declining by 1.5 per cent for the three month period to June.
"This is the first fall in quarterly values for a major urban area that we've seen this year. This is not unexpected given the heavy reliance on tourism and short stay rental accommodation in this location."
David says market resilience over the coming months will be reliant on a continuation of returning Kiwis feeding demand as both buyers and tenants.
He says grounded Kiwi's unable to embark on their OE will also help to fill the void of migrants coming into the country.
"It goes without saying that a return to lockdown protocols would be catastrophic to market confidence.
"Our earlier projections that the market will experience a correction of 5-10 per cent by Christmas time from the pre-COVID high of January to March 2020 is still looking likely.
"While some parts of the country will be harder hit than others, any fall in value should be put into context.
"Most parts of New Zealand have experienced value growth in excess of 5-10 per cent in just the past 12 months, so for those that can weather the storm, this is simply a passing aberration."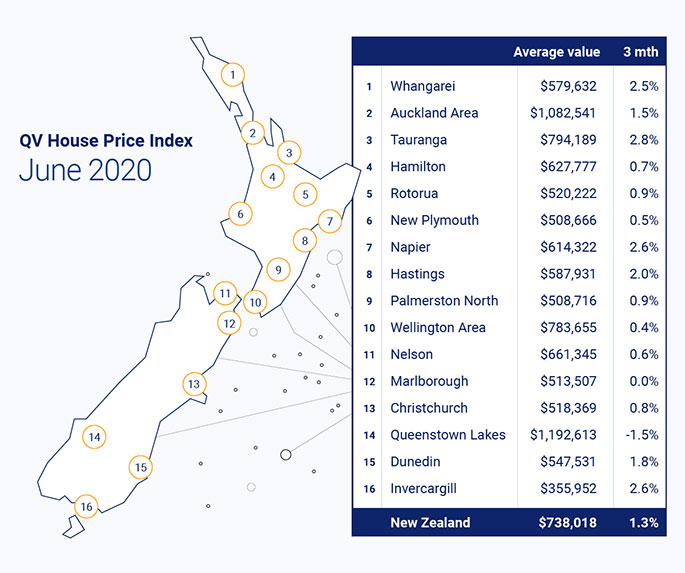 A full breakdown of the QV House Price Index figures for June 2020 is available by clicking here
Tauranga
QV data for Tauranga shows an average value of just over $794,000. Values have increased 6.7 per cent over the last 12 months and 2.8 per cent over the 3 months. Since the previous market peak of 2007 there has been a 64.9 per cent increase on house prices in the city.
QV Property Consultant Derek Turnwald notes that the Bay of Plenty region is one of only five in New Zealand where residential values have continued to rise post COVID-19 lockdown.
"The demand for residential property in the Tauranga suburbs of Papamoa, Gate Pa, Judea and Haririni remains strong as these suburbs are considered more affordable than the central suburbs, Ohauiti and Matua.
"There is a lack of listings throughout the city and this is most likely due to a current nationwide trend as residential property owners wait to see what the post COVID-19 lockdown future holds.
"It is also an election year which generally results in a more cautious approach by buyers and sellers.
Rotorua
Rotorua data for the month of June showed an average residential value of just over $520,000, a 12 month increase of 10.1 per cent, a three month increase of 0.9 per cent. This is 77.2 per cent above the last market peak which was in 2007.
Derek says the Rotorua residential property market was expected to be impacted more heavily than most other cities with the local tourism industry being heavily impacted by the border closures in response to COVID-19, however, so far demand for residential property has remained reasonably strong.
"Prospective purchasers not affected by job losses have remained active in the market and investor interest is still high. Most properties are still selling under multi offer situations.
"There is still a lack of listings particularly, in the higher value range and this is most likely due to a nationwide trend of people waiting to see just what the post COVID-19 lockdown future holds.
"A cautious optimism pervades the Rotorua residential market at present."
More on SunLive...