Tie down trampolines as wild weather approaches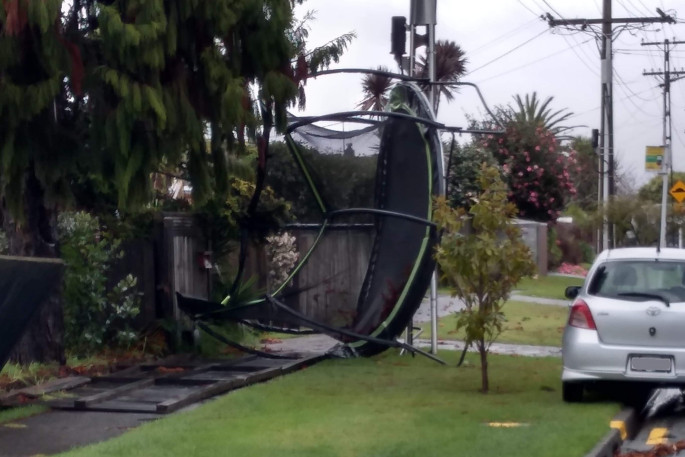 Batten down the hatches, also tie down the trampolines: Heavy rain, snow and gale-force winds are on their way.
The MetService is warning people to watch out for wild weather on Sunday and Monday morning across most of the South Island and upper North Island, as the school holidays get underway.
A period of heavy rain is forecast for the upper and lower parts of the South Island, as well as the West Coast, while the upper North Island is set for a brief period of heavy rain on Sunday afternoon and evening.
Strong to gale-force north-easterly winds are also expected in the upper and central North Island.
The rain and wind come just days after Wellington was battered with snow flurries, sleet and five-metre high waves on Wednesday and Thursday, causing flooding and road closures; and just over a week since heavy rain and tornadoes hit Auckland, Northland and Tauranga.
The heaviest rain is expected to hit northwest Nelson, northern Fiordland and the Otago headwaters, and a heavy rain warning is in force for these areas for Sunday, and into early Monday morning in Nelson.
Worst-hit will be the Nelson ranges west of Motueka, where 70mm to 90m is expected to 3am Monday, with peak intensities of 15mm to 25mm an hour.
Snow down to 1200 metres is expected in north Fiordland and the Otago headwaters.
A heavy rain watch is also in force for Northland, Auckland, eastern Bay of Plenty, the ranges of eastern Nelson and northern Marlborough, Westland and Southland.
The rain is expected to hit Northland from 3pm on Sunday, before dousing drought-hit Auckland from 7pm Sunday.
The Richmond and Bryant Ranges can expect rain from 8pm Sunday, those in the eastern ranges of the Bay of Plenty will hear rain from 2am Monday morning, and Southland will be doused from 3pm Monday. The MetService has forecast 17.2mm per hour of rain to buffet Tauranga around 4am on Monday morning.
A severe gale watch is in force for the upper and central North Island, also southern Westland and northern Fiordland.
The northeasterly winds may approach severe gale in exposed places from Sunday afternoon.
More on SunLive...