Keeping an eye on things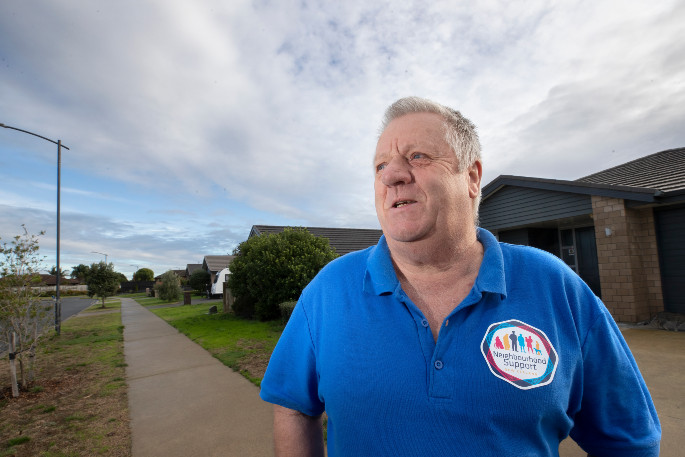 Papamoa has a strong claim to being the most neighbourly neighbourhood in the country.
More than 60 per cent of households are members of Neighbourhood Support – a network known for keeping an eye on crime and an eye out for each other.
Western Bay of Plenty Neighbourhood Support manager Bruce Banks says Papamoa is a bit of a "stronghold" for them with 6200 households involved.
Last time an audit was done Papamoa was the most intensively signed-up neighbourhood in the country. In the last two years alone numbers have increased by about 1000 households.
That's not to say the rest of the Western Bay – which includes Tauranga – is lagging too far behind. There are a whopping 16,800 households signed up.
"When you look at the member households, there's over 16,000 households throughout our territory which is pretty impressive isn't it?"
Interest peaked again thanks to the lockdown. A leaflet drop in some suburbs saw another 12 groups set up in Mount Maunganui alone, with about 300-400 new households, and counting.
There was similar interest in Matua.
"The catalyst of COVID-19 was exactly what they needed."
Areas that already had established Neighbourhood Support groups "just got on with the task" over the lock-down period.
Members were easily able to take care of each other and help out with things like shopping.
"It was a matter of connecting those who could do it for them and those who needed it."
Bruce oversees the Papamoa area personally but puts the success of the area down to the hard work done by former Papamoa co-ordinator Lorraine Stevens and Sergeant Phil Gillbanks who was a very strong supporter of Neighbourhood Support. Phil is now an inspector in Rotorua.
There is no suggestion anyone will be resting on success though.
"Maybe we could have 100 per cent [of households signed up]. That would make the town real safe wouldn't it?"
Bruce would like a few more coordinators in Tauranga and Tauranga South.
Areas are split into manageable chunks and co-ordinators just need to collate everyone's details and add them to the mail out lists which are used to keep people informed about activity in their neighbourhood.
"Police, property and crime reports, safety, community preparedness. It's a little bit more than just crime and safety like it used to be with Neighbourhood Support."
And sometimes it's about going the extra mile. Bruce spent several hours at the scene of last weekend's tornados in Papamoa, finding out what was required and communicating that to members.
More on SunLive...