Wharf contractors get cracking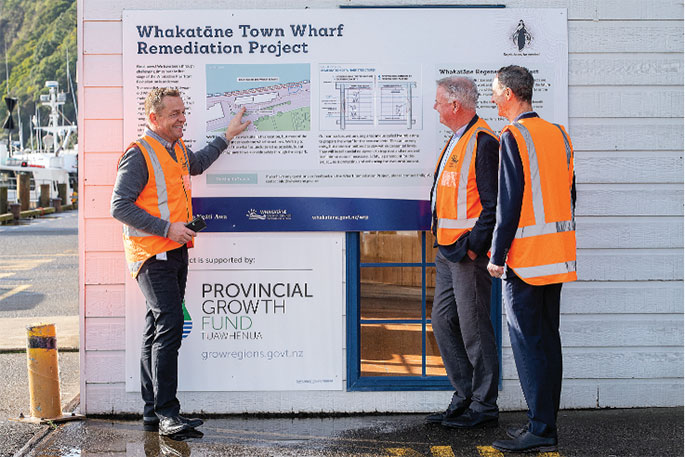 Less than a week after receiving their latest assignment, the contractors responsible for the remediation of the Whakatane Wharf are on site and ready to employ.
Whakatane District Council awarded the wharf contract to BBR Contech early last week and by Friday the specialist concrete engineering company from Auckland was in town interviewing potential staff and meeting with the Ministry of Social Development.
Sections of the Whakatane Wharf are approximately 100 years old and BBR Contech business development officer Mark Kurtovich says this makes it one of the oldest examples of a reinforced concrete wharf in New Zealand.
Kurtovich says the steel in the wharf has corroded and is beginning to "push off" the concrete and weaken the wharf structure.
One section of the wharf was so weakened it had been fenced off.
He says his company specialises in hydroblasting and will be using the technique to cut the concrete off the wharf.
Hydroblasting is similar to waterblasting except water is emitted at a rate of 30 litres per minute at 22,000 PSI.
Protective gear is required, and operators can only safely work for an hour and a half at a time.
BBR Contech will also be undertaking maintenance work on the Port Ohope Wharf.
Kurtovich expects this work to be completed in December.
The company is hoping to employ some of those who have been made redundant due to the COVID-19 economic downturn.
"We are big believers in employing locally and we have already interviewed some local carpenters and are looking at some of the guys from Surtees."
The remediation of the wharf is included in the $9.6 million Provincial Growth Fund-funded Riverfront Revitalisation Project.
On Friday, the council received a further $2.5 million to fast track this project and the new boat harbour development.
As well as the remediation of the wharf, the riverfront revitalisation project includes establishing a slow-speed pedestrian priority area, a riverfront park in place of the Kakahoroa Drive carpark, a plaza space, a riverfront promenade, ecological enhancements and the removal of the eastern finger jetty.
The council hopes these changes, which will results in a completely different CBD, will create a "dynamic heart" for residents as well as enabling Whakatane to become a "world-class, small-town destination for tourists".

More on SunLive...