Vehicle smashes into house in Katikati crash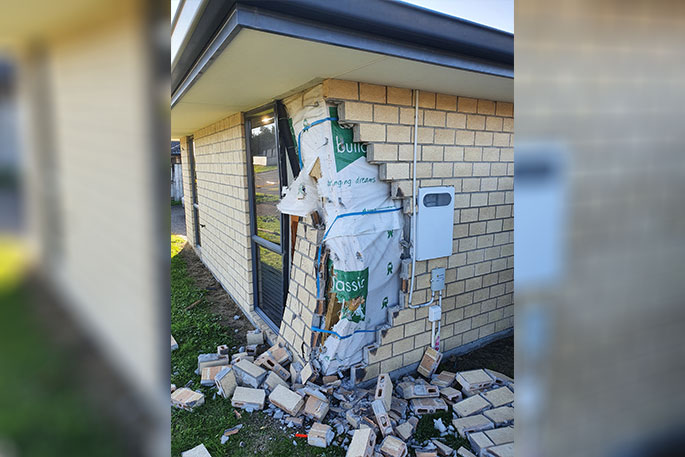 The owner of a house damaged when a car smashed into it in Katikati says he has been told that speed may have been a factor in the crash.
Emergency services were called to the single vehicle crash on Middlebrook Drive at 8.50pm.
A police spokesperson says it appears the vehicle collided with a fence, before hitting the side of a house.
"One person reportedly has moderate injuries."
Martin Sydenham owns the home the vehicle crashed into and says he has been told the vehicle was not doing the posted speed limit.
However, this has not been confirmed by police.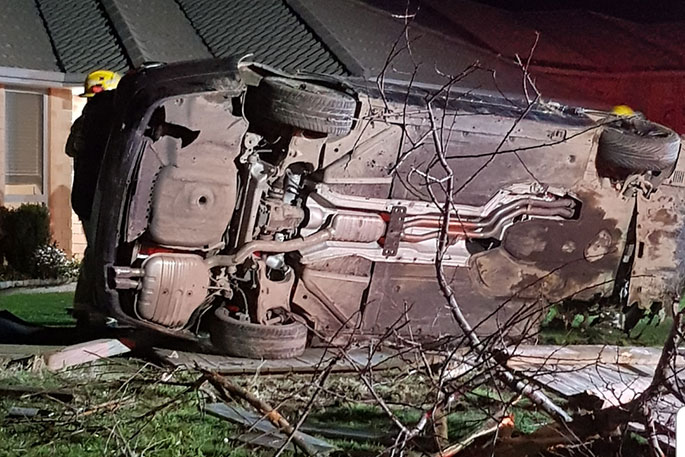 The vehicle on its side following the crash.
Martin says a young professional mum lives at the property.
He says she was a bit shocked by the loud impact to the house which occurred.
"The house is still liveable, so the person in the home won't have to shift out as a result of the damage. Although they will be mightily inconvenienced when one and possibly two walls of the garage and/or some of the roof will need to be removed to rebuild the walls."
Now Martin has had time to process what has happened, he says he is angry.
"Once I'd heard that she (his tenant) and her child were unhurt, although understandably scared and shocked, they were at the rear of the house, thus not immediately affected by the damage, I have to say that I am now angry.
"My insurance company will have to bear the brunt of the costs of repair.
"In Europe, every driver must have at least third-party insurance so that events like this are paid for by the insurers of the person whose at fault.
"An event like this would result in the faulty party then having elevated insurance premiums by way of a learning experience."
Martin says he doesn't understand why third party insurance isn't mandatory in NZ.
"In other countries the cops can check your insurance status on the fly, just as they can here for vehicle and taxation status."
A police spokesperson says enquiries into the circumstances of the crash are ongoing.
The serious crash unit is investigating the crash.
More on SunLive...