No fires allowed within 100m of neighbouring house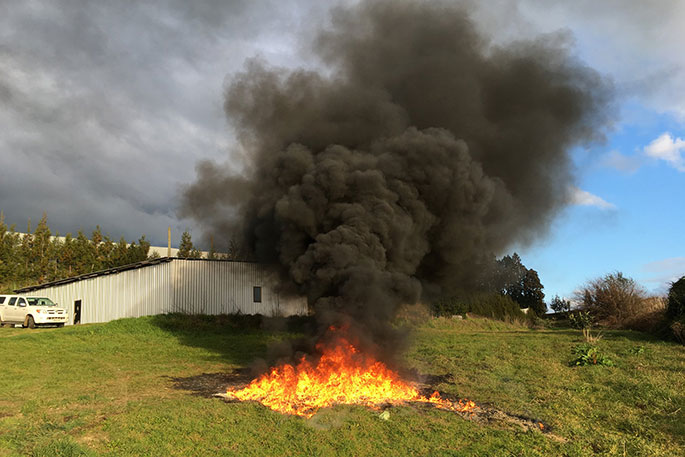 No properties, urban or rural, can light a fire within 100m of the neighbouring dwelling house.
This is the new outdoor burning rule announced by the Bay of Plenty Regional Council in a bid to reduce air pollution.
Cultural and some recreational fires will still be allowed, so long as offensive and dangerous discharges are minimal, says Compliance Manager, Urban, Industry and Response, Stephen Mellor.
Examples of fires that will still be allowed include hangi, braziers, BBQs, pizza ovens, and smokers. Read more here.
"For rural production land, you can apply for resource consent to burn vegetative material within 100m of another dwelling house."
The new rules became operative when the Court's decision was made on June 10.
"The Regional Council is underway with an education campaign and so far have only issued educational letters rather than taken enforcement action while we are initially communicating these changes," says Stephen.
"We know how important the issue of air pollution is for the community and we will help ensure everyone understands these changes.
"This includes contacting stakeholder groups, social media promotion and distributing information through community channels."
While the Regional Council's initial priority is helping to ensure the community know about the new rules and what the changes mean for them, there will be consequences for those for repeatedly break the rules.
"Enforcement avenues for those found to knowingly or repeatedly break the rules include, but are not limited to, a formal warning, $300 infringement fine, abatement notice which can lead to a $750 fine if breached, enforcement order and/or prosecution."
For more details on related open burning rules, please see Rules AQ R6, AQ R8a/8b and AQ R10 of Proposed Plan Change 13 (Air Quality) to the Regional Natural Resources Plan: www.boprc.govt.nz/air-plan-change
More on SunLive...