PGF gives Whakatane a further $2.5 million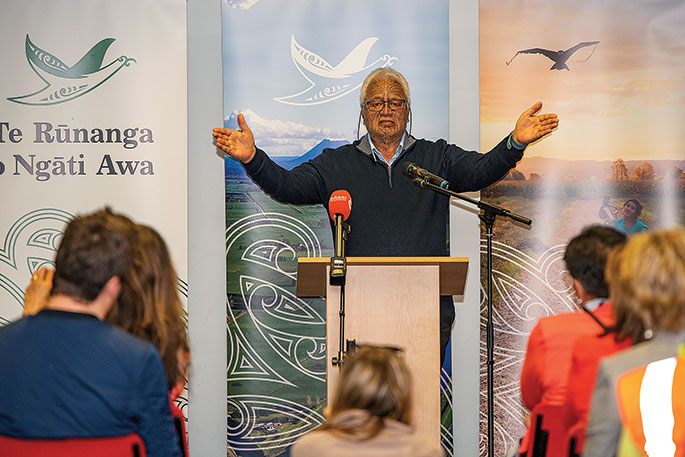 In Winston Peters' words, politicians are "quick on the lip and slow off the hip" when it comes to doling out cash, however, Friday was very different.
The deputy prime minister was in Whakatane to announce a further $2.5 million cash boost from the Provincial Growth Fund to top up the $36 million already invested in the town earlier this year.
The additional millions will enable the fast-tracked development of the new commercial boat harbour, revitalisation of the river front and town centre and the development of a new visitor hub and cultural centre.
Simply put, the additional putea (funding) will enable extra resources such as more staff to develop designs, consultation plans and other requirements.
Peters says COVID-19 demonstrated how much of the nation's wealth, which paid for schools and hospitals, came from the provinces.
He says this money will help Whakatane recover from the economic strain of COVID-19.
"This money will enable all these projects to be completed sooner and will establish Whakatane as a world-class big town."
Peters says quality employment will help the region recover and these three projects will together provide 450 jobs.
Whakatane Mayor Judy Turner says the additional funds will give real people, real jobs, right now.
She says those who have been affected by the COVID-19 economic downturn will see jobs becoming available both through this funding and the $8.2 million Kia Kaha Whakatane projects, which are also funded by the Government.
Turner expects the projects to deliver 160 full-time jobs in the next six weeks with some workers already on site and working.
"Getting these important roading, infrastructure and environmental projects happening quickly will provide urgent economic relief for the workforce, particularly those who have lost jobs through COVID-19."
Turner is also looking forward to seeing work begin on Whakatane's wharf and expects new jobs to be created and people to gain skills and training on the job.
"Whakatane has been hit hard in the past six months, but we will rebuild and recover. These environmental and infrastructure projects allow us to get real people into real jobs, right now."
Ngati Awa kaumatua Joe Harawira says the funding has him optimistic for the future and he's pleased it will allow a kickstart to his iwi's Kainga cultural centre project.
He says what previously existed in the imagination, has become a reality and he has a deep gratitude for the support from the Government.
Bay of Plenty Regional Council chairman Doug Leeder says the projects are a shining example of a partnership that will foster a vibrancy and optimism in the community, as well as contributing to regional economic recovery and development.

More on SunLive...