Inspectors 'lenient' on Bella Vista homes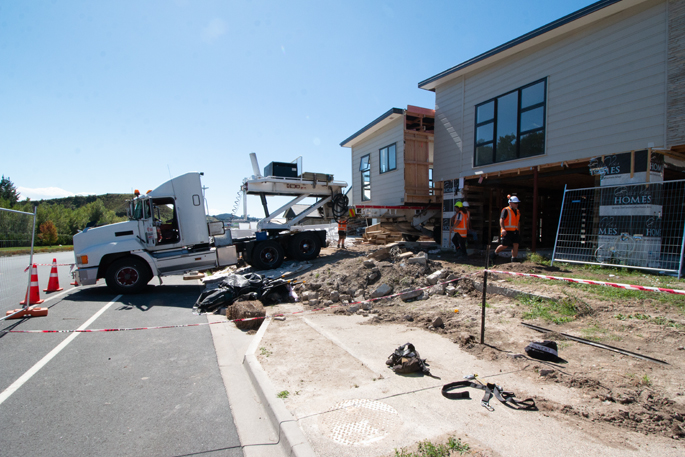 A council building inspector admitted that Tauranga City Council inspectors were told to "be lenient" when issuing failed inspections at the botched Bella Vista homes development.
Former Tauranga City Council building inspector Leon Hume was called as a witness in the case against Bella Vista Homes Ltd, its former director Danny John Cancian, The Engineer Ltd/Bruce John Cameron and Darrel Joseph who face a total of 28 charges under the Building Act 2004.
The majority of the charges relate to block foundation walls that were not constructed in accordance with consent plans.
Hume worked as a building inspector for Tauranga City Council during the time of the Bella Vista Homes subdivision which resulted in a $14.2 million buyout from council after the houses were declared dangerous or affected.
He has since left to work at Hamilton City Council.
Council's prosecutor Richard Marchant asked why Hume had passed inspections of buildings he, in retrospect, should have failed.
"It was just to keep the workflow going," he said.
"I had an element of trust with the supervisor I was dealing with."
Hume said they would often pass inspections if work was not completed as he trusted the supervisor of the site to remedy issues before follow-up inspections.
He was asked if he was put under any pressure during his inspections.
"Well they [council] mentioned we were to handle it [Bella Vista Inspections] a bit more leniently because of a court case," he said.
Judge Paul Mabey asked who told this to the inspectors.
Hume said it was brought up at a team meeting and the instruction was given to other inspectors.
Judge Mabey asked if in retrospect he would still pass the inspections. Hume said he would not, "because of where we are now."
"And where are we now?" Mabey replied.
"We're in a court case. It's caused me a lot of stress and … I wish I failed them," Hume said.
Cancian's lawyer Bill Nabney asked Hume if the details that he could have failed the inspection on were remedied before the next inspection.
Hume said they mostly were but there were some that were not completed.
It was also revealed an employment investigation was taking place against inspectors.
Former building inspector team leader Patrick Schofield said Bella Vista Homes wanted to use non-qualified geotechnical engineers to sign off on geotechnical work.
"Cameron [one of the defendants] wasn't qualified to do that," he said.
"Cancian wanted things to be easier."
Judge Mabey asked Schofield if he believed Cancian, "Wanted things done his way or the highway?" to which Schofield said, "Yes."
Schofield said the council was about to issue notices to fix against the development but meetings with senior management stopped that proceeding at that time.
"They wanted to have a more customer-centric approach," he said.
Under cross-examination, Schofield was confused as to what meetings he attended as the minutes kept by council appeared to be incorrect or with errors.
He could not recall attending certain meetings despite minutes saying who was present. Some dates did not line up.
Nabney said his client Cancian was allowed to rely on the producer statements issued by his engineers if they had been accepted as adequate by council.
The case continues and is expected to last three weeks.
More on SunLive...