Coffee delivery to RSA lockdown angels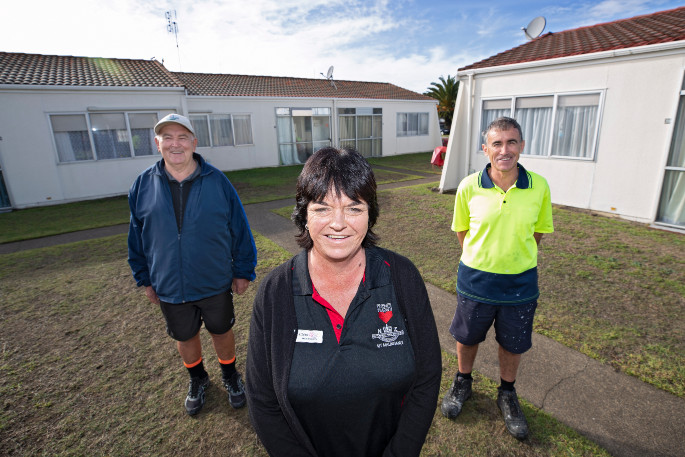 When Robert Harris Tauranga staff read the story in The Weekend Sun about Barry Pinkerton, Claire Carroll and Eddie Pinkerton - the three 'lockdown angels' - at Mount Maunganui RSA Welfare Trust Village, they decided to show appreciation by delivering flat whites to the trio.
The heart-warming surprise was also an opportunity for village residents to join in and enjoy a morning tea of chocolate and strawberry lamingtons as well as coffee at the RSA's Munro's Restaurant & Café.
The surprise delivery was part of the 'Shout the Nation' a coffee that Robert Harris undertook to do across NZ during June to recognise the efforts of the community over the past few months, which helped return the country to Alert Level One status.
"We're incredibly proud of our country for what we have achieved. We want to acknowledge all the hard work done by everyone to get us to level one, by shouting the nation a coffee," says David Thackery, Head of Franchise at Robert Harris.
Sue Clarkson, who lives in the village, had originally contacted The Weekend Sun to tell how much the residents appreciated the extra help and support from the trio.
"They did grocery runs, mowed lawns, spent time with residents and looked after us," says Sue.
It was evident that Claire, Eddie and Barry didn't think it was any big deal really, just "doing their bit" as any Kiwi would.
"We just wanted to keep them safe, that was all," says Claire.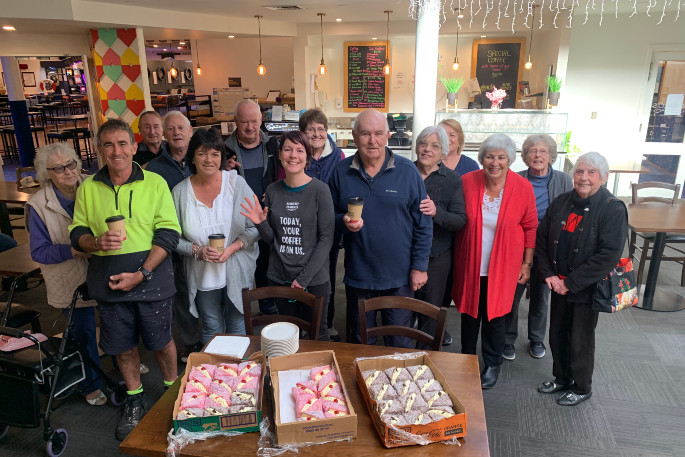 During lockdown, the village of nearly 70 residents became a giant bubble. Early on, Claire asked if anyone would like help with groceries. Smaller trips turned into longer ones and one day she spent nearly four hours at the nearby New World supermarket shopping.
Eddie, age 79, who was once the caretaker before retiring to live in the village, was also pitching in, helping his son Barry who is the current caretaker.
"He helps me out with bits and pieces," says Barry. "If the tenants need something and I can't drive them somewhere, then Dad takes them."
The village has 44 units in the main village, plus nine above the medical centre and five across the road.
"During lockdown I was sanitising all the bins and checking on each of the residents, making sure they're all right," says Barry. "Claire was brilliant doing groceries, everyone appreciated it to the moon and back.
"My dad always went the extra mile for everybody when he was caretaker and so we do the same."
Claire and Barry made a habit of knocking on doors every couple of days during the Alert Level 4 lockdown.
"I was sort of aware that there were two or three that were really frightened," says Claire. "It just gave them someone to talk to, so they didn't feel so isolated."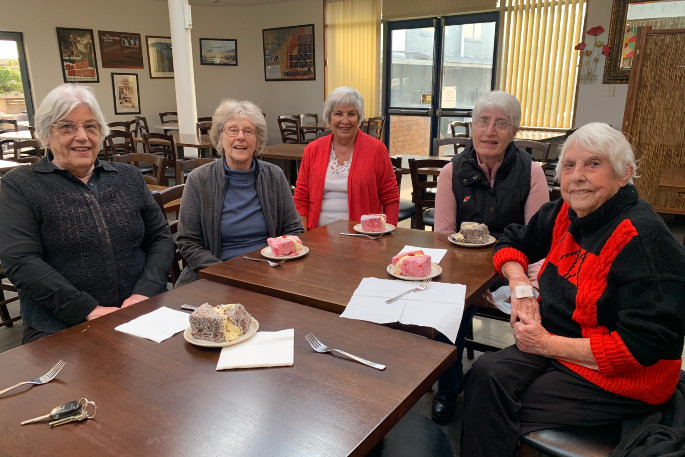 Diane King, Heather King, Mary Wilson, Sue Clarkson and Mary Reid.
Their efforts at going the extra mile didn't remain unnoticed, with first Sue 'dobbing them in' to The Weekend Sun, followed by Robert Harris Tauranga deciding to shout them a flat white.
"Robert Harris Tauranga want to celebrate local lockdown legends who went above and beyond to support their community during the lockdown period," says David Thackery.
"We saw your amazing piece on the wonderful Eddie Pinkerton, Claire Carroll and Barry Pinkerton and thought they would be more than deserving of hand delivered complimentary coffee so we scheduled a surprise delivery to the trio at the Mt Maunganui RSA.
"We're excited to be able to operate business as usual at level one and to be welcoming our customers back to our cafés. We want to encourage our customers to bring their family and friends and enjoy a well-deserved catch up at their local Robert Harris café," says David.
The residents who came across to Munro's sat down to enjoy a hearty cuppa and lamingtons, baked fresh at Big Bake Bakery in Papamoa.
More on SunLive...