Stories in your skin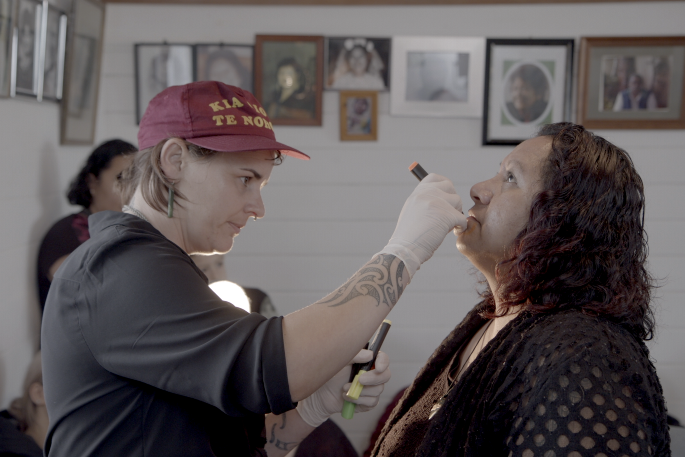 Hiona Herare's film 'Ruahine: Stories in Her Skin' focuses on the ceremony where two Muaupoko wahine, Anahera Winiata and Janice Cherie Pania Eriha, receive their traditional moko kauae.
For Maori women, the moko kauae or chin tattoo is a visual way to assert their birthright and identity while celebrating the mana or spiritual power of their ancestry.
In Maori tradition, the head is considered the most sacred part of the body, making the practice of moko kauae highly prestigious and exclusive to Maori women. The moving and powerfully emotional film explores the personal reasons for women getting the tattoo, a practice that was once suppressed through legislation but now experiencing a resurgence.
Hiona was initially approached by her cousin artist Sian Montgomery-Neutze, to film the moko kauae ceremony.
"So that we had a digital copy of it for our whanau archive," says Hiona. "It's a significant milestone for any moko artist and the whanau wanted me to capture it. And of course the two wahine receiving their moko kauae were family too."
Being busy with other film work, Hiona came back to the footage later and watching it, she found she was transported back to the ceremony.
"I gave me the feeling that through this film we could show the world what wahinetanga – womanhood, and whanaungatanga - family connection - values look like, feel like and sound like."
The 40 minute intimate documentary, made in 2019 and filled with traditional songs, is one of the more than 80 films being screen on the Doc Edge Online Festival which runs until July 5.
More on SunLive...