Stupid robots take on the world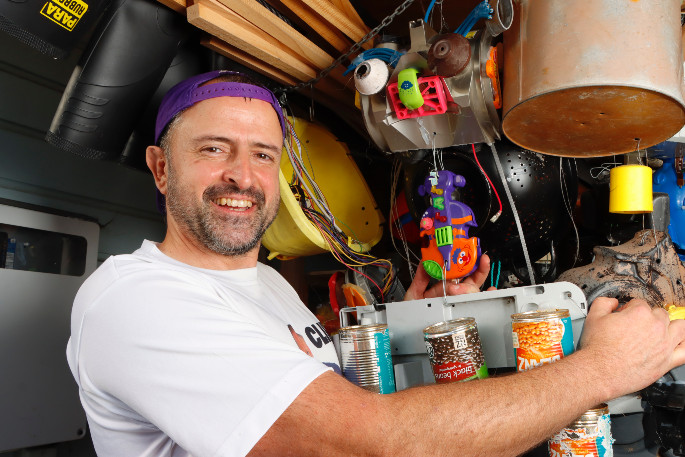 As I arrive at the door I'm greeted by a strange male mannequin with a camera lens for an eye, a hairy chest and homemade clothes.
On the floor of the living room are old children's toys, vacuum parts, wheels and pipes all laid out in neat rows. The mannequin is one of John Espin's many creations.
John is in the middle of a meeting with members of the American band ArcAttack to design their second 'stupid fighting robot'.
He shows them different options for a head, shoulders, torso, arms and legs and they discuss at length which pieces of rubbish will make the best but dumbest robot.
John describes his Stupid Robot Fighting League as violent marionettes.
The robots are essentially puppets controlled by people with sticks attached to them, with the goal of smashing each other to bits.
"It's all about smashing the face of the stupid robot. Our motto is smashing stupid robots in the face is life."
John started the fighting league in 2016 and it has since gained global interest with ESPN commissioning a show and Japanese TV picking up the story as well.
ArcAttack is the latest to contract John's robot making services for the fighting league 2020 American championship.
Band member Giovanni Di Prima says they decided to get the robots made because he has a stupid robot of his own and felt obliged to partake.
John plans on holding the American championships with 10 robots all made for different people in the US in the next few weeks.
The American championships will be held at Bay Karts and John is looking for sponsorship for the event.
The winner of the US league will go on to fight in the world championships next year.
"Everybody that's involved, basically, is having a proxy war in New Zealand."
John, a single dad of two, builds the robots when the kids have gone to bed, and brings the pieces of rubbish to life.
"The angry eyebrows are key absolutely. If I took them off, then he'd just be hanging rubbish."
No one pays him for his builds and the parts are generally items discarded by locals from his Te Puke community.
"The idea is that it's one of the worst business models ever.
"I'm a great fan of, if you come up with a bad idea, then give the thing wings and see what happens."
In this case another man's trash is one man's treasure is very literal and the league is gaining traction worldwide.
More on SunLive...