Stepping foot on the new Pyes Pa bus service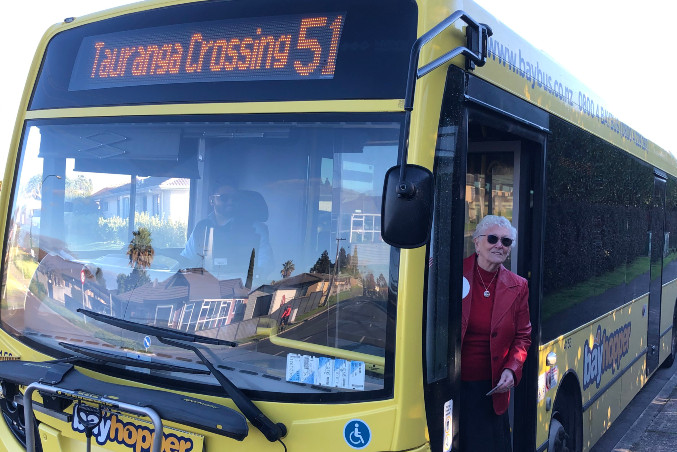 Pride washed over Janet Tullis last Sunday when the very first 51 bus pulled up on Pyes Pa Road.
The 82-year-old, who describes herself as a fighter, has been pushing hard for a direct bus route from Pyes Pa to the Tauranga Crossing.
Before this service was introduced, Pyes Pa residents wanting to get to the Tauranga Crossing by bus had to divert at Greerton.
But petitioning has paid off for Janet, with Route 51 now running, every hour, from 9am-3pm seven days a week.
Janet made sure she was the first passenger to set foot on the bus on Sunday.
"I was quite specific about that. There was a real sense of satisfaction when it finally arrived," she says.
The service will benefit retirement village residents in Pyes Pa and those who can't drive, says Janet.
"Many people in Pyes Pa are in their 80s and 90s. We are all getting older and many people can't drive. All the retirement villages were kind of cut off from the Tauranga Crossing before this bus service.
"Everyone will advantage from this bus, even ordinary residents. If you can get from Pyes Pa to the Tauranga Crossing in 15 minutes by bus, why would you bother driving with all the traffic and trying to park."
Althorp Village resident Susan Andersen initially came up with the idea of the bus service, which is when Janet stepped in to help.
After gathering signatures from retirement village residents, Janet presented the idea to the Bay of Plenty Regional Council and Tauranga City Council – gaining support from both.
City Councillor Larry Baldock has been "instrumental" in bringing this proposal forward, says Janet.
Baldock, alongside regional council members, presented plans for a proposed route in December.
Janet says the service was worth fighting for because now Pyes Pa community members can enjoy everything the Tauranga Crossing has to offer.
"There is lots we can do at the mall – spend an hour or two doing nice things. It's an easy way for us to get out of the village and do something different."
More on SunLive...