A whale of a boat gives access to all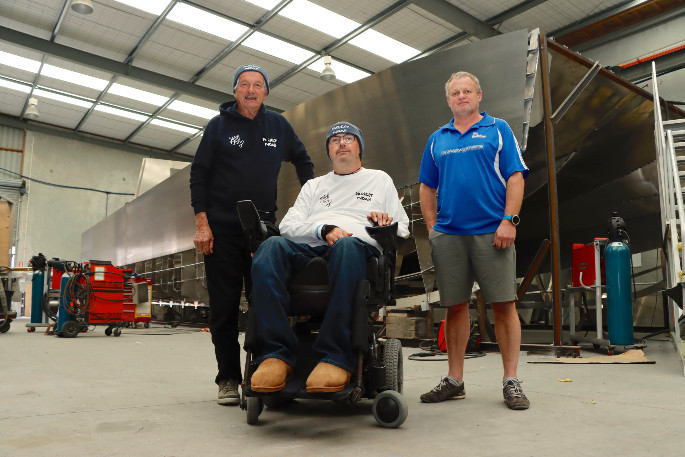 The giant 18-metre Project Noah boat will rival super yachts for its sheer size but this boat has a difference.
It is built to provide the one million New Zealanders living with illness and disability access to the ocean.
The aluminium catamaran is finally a reality after Bryce Dinneen dreamed it up while lying on his back in the Burwood Spinal Unit in 2007.
After a shallow water diving accident severely damaged Bryce's spinal cord he thought he would never be able to fish again.
Bryce started the charity Wish 4 Fish in 2011 so people like himself could experience salt water activities.
Now, the $2.5 million boat is quickly taking shape at Alloy Cats in Mount Maunganui and is five weeks into a nine month build.
Bryce says finally having the boat underway is pretty surreal.
"I go to bed every night with a picture of a boat from Kingfisher on my ceiling along with a pretty cool card from my dad saying 'never give up and always hold onto your dreams'.
"Now I go down to the workshop and there's an 18 metre boat."
Alloy Cats managing director Kym Bertelsen says a build like this would normally take 18 months but they are doing things simultaneously to speed it up with the goal of launching in time for the America's Cup in February 2021.
The boat is designed with access in mind. There is a lift to get people on and a lift so people can visit the fly bridge.
"How cool will it be for someone to take a lift up to the top of the fly bridge and see the marine life for the first time since their accident or illness," says Bryce.
It is also customisable to cater for a range of scenarios from an overnight trip for up to four disabled people and their carers or a fishing day trip for a mix of people's abilities.
"When dealing with an illness or disability space is so important, so you can function in a safe environment, in an environment where there's not limitations, there's not challenges.
"It's about access and opportunity."
Kym says it's not just another boat.
"It's very much a customised, purpose built boat for the needs of so many people that are going to be able to experience something that they [normally] wouldn't be able to."
Although the boat will be based in Tauranga it is designed to travel the country and built to withstand New Zealand coastal conditions.
Funding for the boat has come from New Zealand Lotteries Grants Board, Pub Charity, Lion Foundation, Infinity Foundation and Grassroots Trust.
There is a Givelittle page to raise money for the operational costs of the boat and providing free trips for people with illness or disabilities. The page can be found here
More on SunLive...