Nine active cases of COVID-19 in New Zealand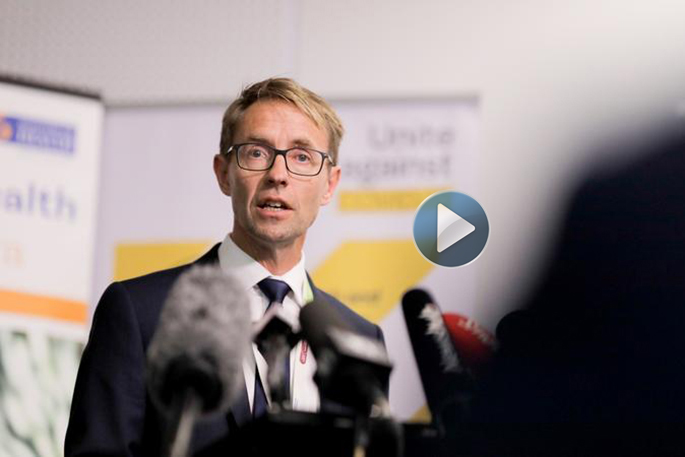 UPDATE: There are now nine active cases of COVID-19 following the announcement of two new cases at the border today.
Director-General of Health Dr Ashley Bloomfield say the two new cases brings New Zealand total number of confirmed cases of 1163.
He says the first case is a teenage girl who arrived back in New Zealand on June 13.
"She travelled with her siblings and mother. Her siblings and mother have all tested negative.
"She was staying at the Novotel Auckland Airport Hotel and her only symptom was a running nose."
Ashley says the second case is a man in his 30s who arrived in New Zealand on June 15 from India.
"He had been staying at Grand Millinium Hotel. He has shown no symptoms at this point."
Ashley says his wife, who he had been travelling with, has no symptoms either.
Both cases have been transferred to the Jet Park Hotel, which is were all the confirmed cases are.
On Sunday, laboratories carried out 3402 tests. The total number of tests done in New Zealand to date is now 344,519.
EARLIER:
The Director-General of Health, Dr Ashley Bloomfield, will provide an update to the media today at 1pm.
SunLive will provide updates throughout the afternoon for those who are not able to tune into the live update.
What we know so far:
On Sunday, there were two new cases of COVID-19 reported in New Zealand, both in isolation.
There were now seven active cases in this country.
One of the new cases is the infant child of the couple who tested positive yesterday, and the other is a 59 year old woman who travelled from Delhi.
The Ministry of Health said they would not provide the exact age of the child who arrived with its parents from India, but it was under two years old.
"We are pleased to report that all family members are doing well at the Jet Park Hotel, the quarantine facility in Auckland."
The second case arrived in Auckland on June 15 on flight AI1316.
"She was tested while at the Grand Millennium managed isolation facility and was travelling with her partner who has also been tested and whose result is pending. Active follow up is now underway.
"An update will be provided on Monday on this case and the follow up of other cases from last week."
The total number of confirmed cases remains at 1161. The combined total of confirmed and probable cases is still 1511
More on SunLive...