Unicycles and vintage shopping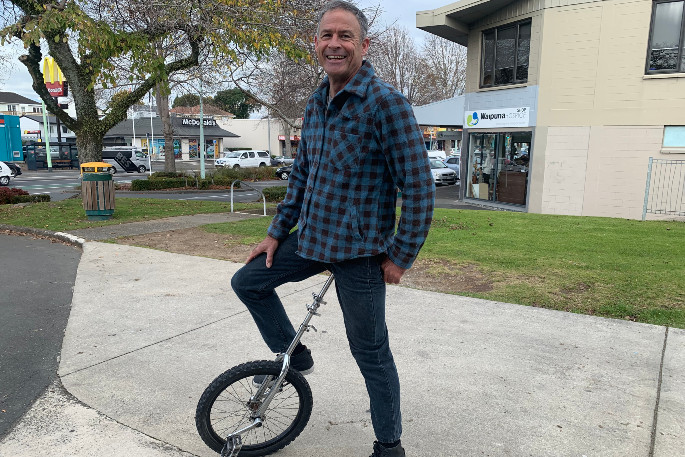 The Tauranga Buy Local campaign is going so well, that people are turning up from Auckland it seems.
David Ijsseldijk practiced riding his unicycle outside the Greerton Hall this week, while his wife Sheryl McEwen was busy looking for good buys at the Waipuna Hospice Charity shop in Greerton Village.
The couple from Titirangi, Auckland, decided to go on a five-day trip to Tauranga and Rotorua.
"I'm just learning how to unicycle, it's my COVID-19 adventure," says David, who does building repairs and maintenance.
"Lots of people ringing me up for work at the moment, so that's great."
This week though, work is taking a back seat while they explore some of heartland NZ. David had found the unicycle on a previous trip to Nelson.
"Cost me $10. I added in components from a kid's scooter to lengthen it, then thought I'd spend a bit and bought a seat, as it had a kid's seat and I was falling off."
"We're on a shopping tour. Well, Sheryl is. I'm learning to unicycle."
Sheryl who specialises in recycling quality jewellery, and vintage and designer finds for her 'Retro-a-gogo' Instagram and Facebook page, was delighted to find an iconic Kiwi designer Kevin Berkahn, amongst the clothing at the Waipuna Hospice shop.
More on SunLive...