National weather update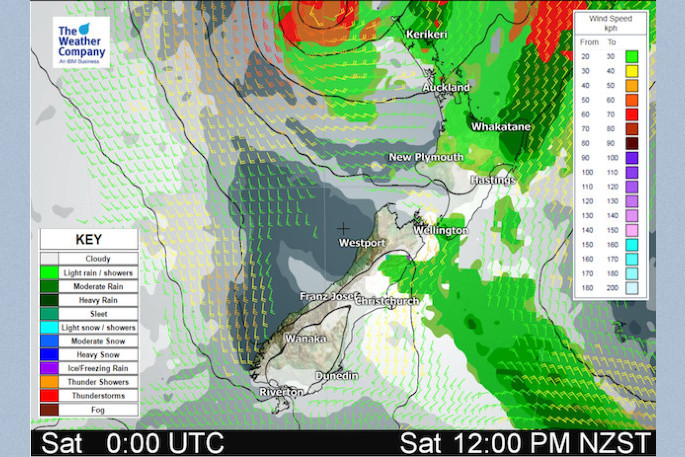 WeatherWatch advises that a ridge lies over the South Island today.
"Meanwhile a southeasterly airflow flows over the North Island feeding into a low centred to the northwest," says weather analyst Aaron Wilkinson.
In Northland, Auckland, Waikato and the Bay Of Plenty, the weather forecast is for a partly cloudy day with showers for Northland with the risk of a heavy fall in the morning then easing. Elsewhere there is the risk of a shower also, especially during the afternoon and then clearing in the evening. Easterly to southeasterly winds are expected with a high of 14-16 degrees Celsius.

The weather forecast for the rest of the country is as follow:
Western North Island (including Central North Island)
Sunny areas, south to southeasterly winds pick up from afternoon bringing thickening cloud and the risk of a shower.
Highs: 12-16

Eastern North Island
Sunny spells, rain about East Cape with heavy falls possible. Southerly winds freshen from afternoon bringing thickening cloud for Wairarapa and the odd light shower, spreading into Hawkes Bay in the evening. Rain sets in for most areas at night.
Highs: 14-16

Wellington
Mostly cloudy, dry to start then a shower or two from midday as Southerlies freshen.
Highs: 12-13

Marlborough & Nelson
Cloudy areas about Marlborough with southeasterly winds. Nelson has a mix of sun and cloud, light southerlies tend to the north in the afternoon.
Highs: 12-16

Canterbury
Mainly sunny about South Canterbury after a frosty start, Mid Canterbury northwards expect cloudy areas (especially nearer the coast) with the risk of a shower at times. Cloud thickens up for most in the evening. Southwesterly winds.
Highs: 7-11

West Coast
Mostly sunny, some high cloud. Southeasterly winds.
Highs: 13-16

Southland & Otago
Morning cloud (risk of a shower about Southland and the Catlins) then afternoon sunny areas increase, light winds tend to the south or southwest by midday.
Highs: 7-10


More on SunLive...