Tauranga set to shine bright for Matariki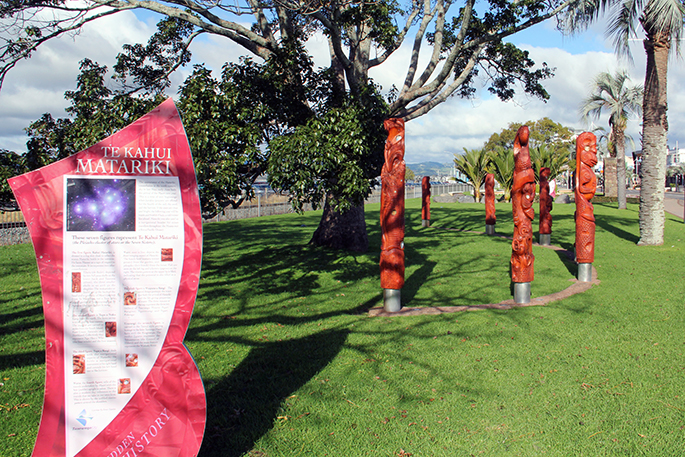 Māori culture in Tauranga Moana will shine brightly at the end of June for Matariki; celebrating Māori New Year, as well as the commemoration of the land wars at Te Ranga on the 21st.
Matariki is the Māori name for the star cluster also known as the Pleiades. Towards the end of June through to the end of July, we can observe Matariki rise in the north-eastern horizon just before dawn. The first new moon following the rise of Matariki marks the first day of the Māori New Year.
This year's Matariki theme is 'Ngā kura huna' meaning important knowledge and treasured learnings, that would otherwise remain hidden.
"Matariki is about the revival of tikanga Māori and matauranga Māori.", says general manager of Te Puna i Rangiriri Trust, Awhina Ngatuere. "It is a reminder of a time our ancestors were living and a time to come together as a united community to celebrate new beginnings."
The 2020 programme of events will run from June 21 to July 21. With a mixture of online and face-to-face workshops offered because of COVID-19 uncertainties. Brought to you this year by the Incubator Creative Hub, Ngai Te Rangi Iwi, Ngati Ranginui Iwi, Tauranga City council, and Te Puna i Rangiriri Trust.
Workshops engage in a range of indigenous knowledge. Such as kai (nutrition), waiata (singing), whakairo (carving art), putiputi (flower arrangement), Kemu (games), drawing and traditional poi making.
This year's festival includes a dawn karakia with waka navigator, Jack Thatcher. Who will take participants on a guided tour to different locations on Mauao sharing about Matariki and traditional sites of significance.
A showcase of three short documentaries by Māori filmmaker, Mita Teremoana Tahata, concludes Tauranga Moana Matariki 2020 on the 21st July. Opened by Jo'el Komene, the films then include a Q&A panel discussion with subjects of the film, Kelcy Taratoa, lata Peautol and Mita Teremoana Tahata.
Tauranga City council kaiarahi Māori, Keren Paekau, says "This year's events are a great opportunity for locals to come together and connect now that the nationwide lockdown has been lifted."
The 2020 Matariki Tauranga Moana programme of events will launch on Tuesday, June 16. With the dawn karakia beginning at 5.30am between June 21-26, next to Mount surf lifesaving building. Head to www.mymatariki.co.nz to find out more about the events on offer.
By Charlize Krause
More on SunLive...