Cyclists in cyberspace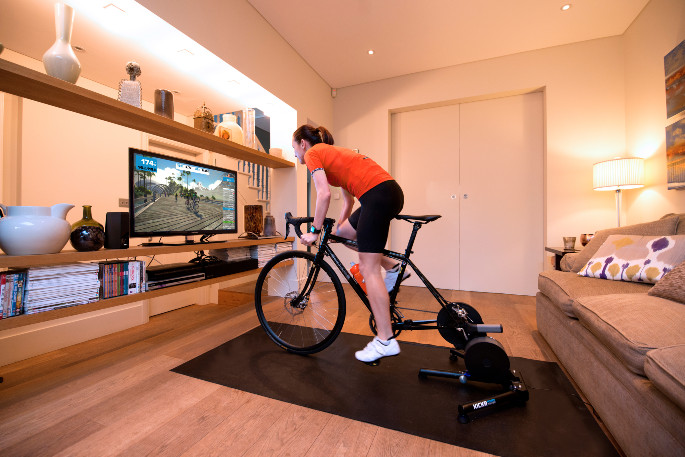 Tauranga triathletes are pedalling ahead in a nationwide cycling competition – without leaving their houses.
The Triathlon NZ Zwift Race League is a six-week-long virtual competition where participants use their at-home stationary bikes, smart trainers and an app called Zwift to participate.
The app shows each racer as an avatar in a video game like setting. If the track goes uphill on screen, the bike's settings change accordingly.
The Tauranga team, which has about 11 participants every Saturday, is ahead in the League's overall standings after the first four races.
With only two races to go and a 339 point lead on Auckland City Triathlon Club in second, things are looking good.
This is the competition's second series. Tauranga placed fourth in series one, which ran from April to May this year.
Papamoa's Angie Wall and her husband Hayden Goldsack have helped bump up the rankings. They've participated in all four races in the second series – bar one for Angie, when her laptop decided not to play ball.
"I guess that's one of the downfalls of virtual racing," says Angie.
"But there are plenty of good parts, too. Zwift has kept us training during winter and you don't have to worry about cars.
"It will be interesting to see how fit we actually are when we go back to training outside."
Angie has placed well within the top ten in the women's division for each of her races, placing fourth, fifth and sixth.
She says the social aspect of the competition has been the most rewarding.
"It kept us in contact with people we train with when we couldn't go outside, which is important."
In addition to the Zwift League, Triathlon Tauranga began cycling training sessions via video call during lockdown, for both members and the public.
"In lockdown we had 50-60 people at each session, which is by far our biggest training session in recent times," says Tauranga Triathlon president Suzanne Board.
"We had people taking part from Auckland to Christchurch and as far as Hong Kong, Wales, and England.
"We joined up with Portsmouth Triathlon Club in England for some sessions, and virtually took part in Clap for Carers."
Due to high demand, the club is continuing virtual training.
More on SunLive...