Bike rack new feature in Katikati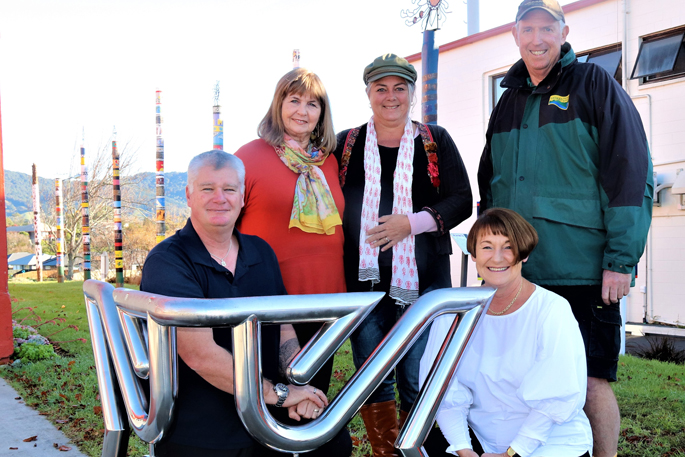 A Bay of Plenty man is thrilled after winning a bike rack design competition in the Katikati community.
Keith Lewis was driving through Katikati last year when he spotted the sign about the competition. His gut feeling told him he was going to win it.
When he got home he started designing and came up with a stylised bike rack that incorporates two `Ks' for Katikati in a tubular steel frame with four sides so that bikes can be leant against each side and secured.
Keith's design won the competition, which was run in conjunction with the NZ Mural Contest and Arts Festival.
Katch Katikati coordinator Jacqui Knight says the idea for a competition came from the Katikati Trails Development Group following feedback from the community about the lack of access to bike racks around town.
The competition was an initiative of Western Bay of Plenty District Council and Katikati Open-Air Art.
Keith's design was selected from 25 entrants. Open-Air art chairman Steve Graveson says judging was tough but Keith's design filled the criteria perfectly being functional, safe and aesthetic – which fitted well with Katikati's art legacy.
A travelling sales agent by day, Keith is an artist by night and specialises in garden art and interior retro wall art through his art studio One Lane Bridge.
"The idea behind the bike rack was to stylise the letter K – so I chose to put two Ks together in an L shape and allow for up to four bikes to rest and be locked against them.
"The K design is modern but with a hint of Maori in the flow of the design – you can also see a whale's tail – but that was an accidental spin-off."
He is thrilled with the finished product and says engineer Brad Miles of Miles Better Engineering has done a superb job in getting the right perspective and finish to the rounded edges of the frame.
"Brad has strengthened it beautifully so that is functional, great to look at and I love where it is located by the Western Bay Museum and close to the Art Junction," says Keith.
Councillor Anne Henry says the competition demonstrates the good collaboration in Katikati between Open Air Art, the Museum, Katch Katikati and Council.
The rack was installed last week by Fotheringhame Contractors of Katikati and is an added feature to the entrance of Western Bay Museum.
More on SunLive...