Putting their best foot forward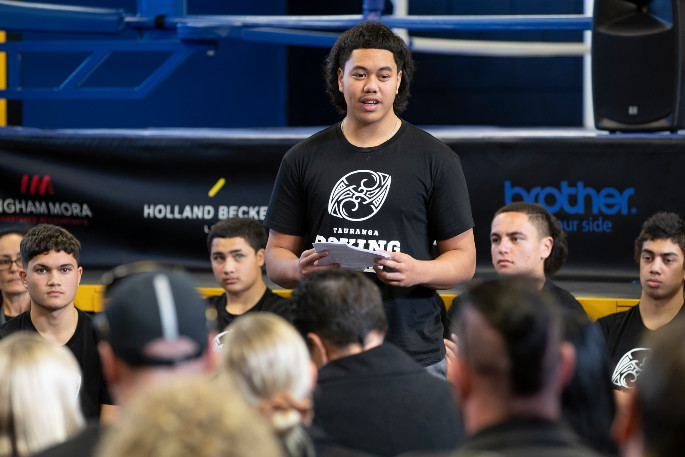 If Dominic Tupou hadn't joined the Tauranga Boxing Academy he wouldn't be putting much effort into his school work and would be "pretty slack".
The 16-year-old has been going to the academy since it started in 2018 and says the values he has learnt have impacted his lifestyle.
"I'm definitely happier, more mature, [and there] are different situations that I am able to handle better now.
"The cliché one would be when I do get into a little ruffle scuffle argument and it's getting pretty intense, then they do teach you to walk away."
The year 12 Tauranga Boys' College student is now mentoring younger members and is grateful for the opportunity.
"It's just really awesome to see how I can help them and influence them in a way and watch them grow and knowing that the men that they become is sort of, because of myself."
Dominic's story isn't unique and about 140 young people are part of the academy and have learnt the values of kindness, respect, responsibility, trust and resilience.
The boxing academy is run by the Bay of Plenty Youth Development Trust and is now expanding with the Imagine Believe Achieve (Moemoea, Kimihia, Taea) employment training programme for at-risk youth.
Imagine Believe Achieve starts with a 13-week pre-employment programme which is then followed with up to a year of pastoral care and working with employers to ensure the youth stay employed and happy in their role, says IBA general manager Rebecca Roe.
The programme aspires to develop whare tapa wha which is the physical, mental, emotional, spiritual and social wellbeing of the youth involved, she says.
The goal is to work with the participants so they are resilient in the workforce as well, says Rebecca.
"Having our kids reach their full potential but also being in sustained employment."
People aged between 15 and 24 are eligible for the programme that provides tailored learning and teaches eight key employability skills with the boxing gym ensuring participants maintain their physical health.
Employment Minister Willie Jackson announced funding for the project at the academy on Tuesday with with $407,400 coming from the Ministry of Business Innovation and Employment and $310,000 from the Ministry of Social Development.
Rebecca says the funding will enable them to develop and deliver the programme, as well as employ staff.
The first intake of 10 youth starts on June 22 and there will be further intakes about every four months, says Rebecca.
More on SunLive...