Anticyclone over most of NZ today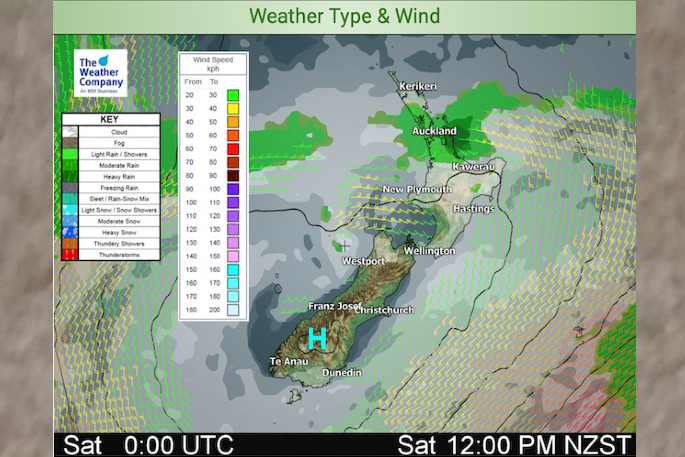 WeatherWatch advises that an anticyclone covers most of New Zealand today.
"However a front is stalling over the upper North Island delivering some rain," says weather analyst Aaron Wilkinson.
Some major frosts will hit inland parts of the South Island this weekend while the upper North Island has colder air with cloud and showers.
By Monday sub-tropical winds will develop – with this next week dominated by more high pressure and more northern or western showers.
The regions:

Northland, Auckland, Waikato & Bay Of Plenty
Cloudy about Auckland, Waikato and Bay Of Plenty with periods of rain. Northland has a mix of sun and cloud. Easterly winds.
Highs: 13-17

Western North Island (including Central North Island)
Mostly sunny with some high cloud, southeasterly winds. Coldest day time highs about the Central Plateau.
Highs: 9-15

Eastern North Island
Any morning showers clear, a mostly cloudy day with cool south to southwesterly winds dying out at night.
Highs: 11-13

Wellington
Any morning cloud clears then mostly sunny, southeasterly winds.
Highs: 11-12

Marlborough & Nelson
Morning cloud then mostly sunny, light easterlies.
Highs: 10-12

Canterbury
Sunny after a frosty start, light winds.
Highs: 8-10

West Coast
Sunny, light winds.
Highs: 10-13

Southland & Otago
Morning cloud for Southland then mostly sunny, Otago has a sunny day with heavy frosts inland to start. Light winds.
Highs: 7-10
More on SunLive...