Life and death during lockdown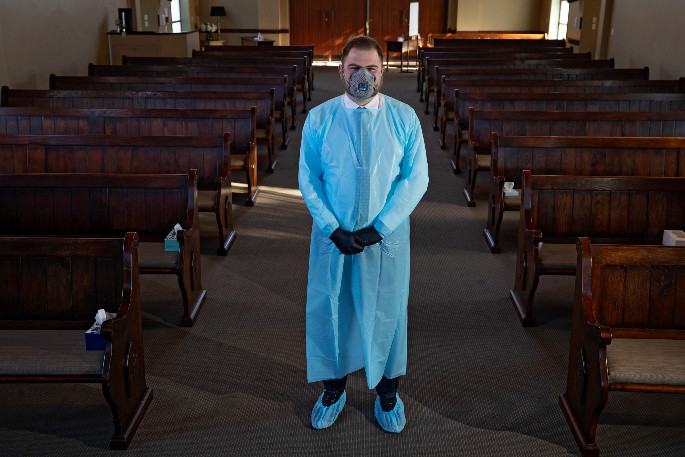 Being unable to hold your wife's hand one last time was the harsh reality of life during lockdown for many families.
One man at a Bethlehem retirement village is living in an apartment and his wife was in the hospital section when she died.
He was unable to see her in her final moments and even after her death because of the lockdown restrictions.
Legacy Funerals funeral director Marco Vianello retells one of many stories he has about the situations he has experienced since the COVID-19 alert levels began.
"I've been married for six months and I just think if I had been with my wife for 60 years and you can't hold her hand that one last time, that's just wrong. It's just totally wrong."
He says the restrictions have been necessary and Legacy followed the protocols strictly but it was the complete opposite of everything he is used to as a funeral director.
"There is so much I could say about lockdown, how bizarre it was, just the total opposite of what we do.
"The number one thing in our job is relationships and lockdown just prevented that completely.
"Thankfully families were so incredibly understanding of what was going on."
During the four week lockdown, funeral directors were unable to meet with families in person and funeral services could not be held.
Marco says they often held a small service or committal for a person with just himself and another funeral director that was recorded or live streamed for the family.
"In my honest opinion lockdown was not dignified for the deceased and not dignified for the families, it was a necessity."
When removing a body, funeral directors had to wear personal protection equipment including a gown, gloves, mask and shoe covers and no one else could be present in the room during Level 4.
Marco says that was hard because families didn't get to see their face or shake their hand.
"We didn't get to do all those little things that show people they're giving us their most precious taonga. It felt very sterile.
"Our job is to help the living and be a guardian for the deceased."
To ensure Legacy always had staff available they split the teams between their two sites at Pyes Pa and Woodhill in Otumoetai.
"If one of us got sick and had a case or something, we could all isolate and we still had another team ready to go."
Three months to get home
Another reality for some people was that their loved one passed away in another country during restrictions and border closures which made repatriation or getting ashes home incredibly difficult.
Marco dealt with a man from Vanuatu who was in Tauranga for the kiwifruit season and he died just a week after arriving, in early March.
It takes about seven to 10 days to prepare a person's body and all the documents for repatriation, says Marco.
They had a small service at church in Te Puke and on the day the man's flight was meant to leave Marco got a call to say Vanuatu has closed its borders and cancelled all flights.
This left them unsure what to do next because everyone was uncertain when the borders would open.
After about six weeks the family decided they would bury the man in New Zealand just outside of Hastings because cremation is not an option culturally.
Marco says it was nice for him to be buried there because they knew someone in the area but he was also concerned that it was a long way for family to travel if they ever made the trip from Vanuatu.
The ultimate goal was to get the man home.
"There were a whole lot of agencies involved and there was growing frustration from everybody because everybody wanted him to be in Vanuatu.
"It's awful to think that somebody that's been here for a week would have to be buried here."
A few days before the burial, Marco got a call to say the Ministry of Foreign Affairs and Trade would be doing a repatriation and trade flight to Vanuatu because of the cyclone that hit in April.
Once all the paperwork was organised there was another call to say the plane couldn't fly and after another couple of false starts the man was flown home last Thursday, around three months after he died.
"The family were incredibly thankful to everybody, they didn't care about the delay, they were just happy that he was coming home.
"It was quite emotional when he went, you've got this person here for months and we we've been entrusted to look after this deceased gentleman and we never imagined it was going to be for so long.
"It's a real privilege and obviously this lockdown period, I think it's been challenging for everyone."
More on SunLive...