Three generations of donors encourage giving blood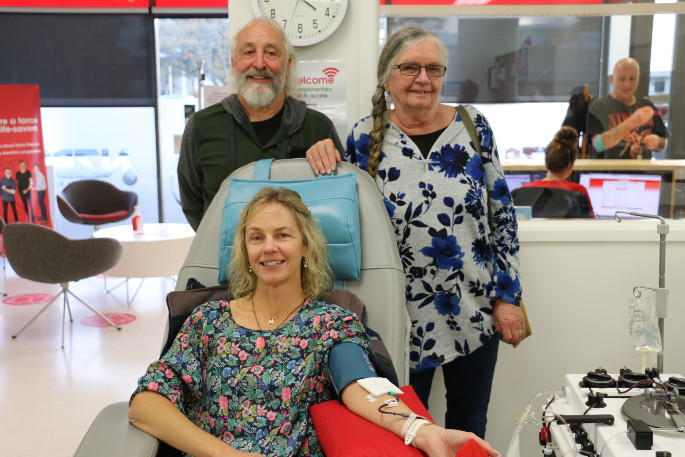 "It's simple, it's painless and it doesn't cost a thing apart from a little bit of time."
Those are the words of Tauranga man John Daniels who has made more than 250 donations to the New Zealand Blood Service in his lifetime.
Donating blood products is important to John and his wife Deborah Daniels. They have three generations of donors in their family.
The pair have strived to normalise both blood and plasma donations for their daughter Katreena Marie Daniels and granddaughter Tian Lee Daniels.
And Katreena reckons the normalisation has worked, with the Welcome Bay School teacher making her 205th donation last week.
She says when she was old enough, it was never questioned whether or not she would donate blood.
"It's just been normal for me my entire life. It's important to do this for the wider community – it's just the right thing to do," she says.
This Sunday marks World Blood Donor Day. Every year on and around June 14, New Zealand recognises the country's 110,000 blood donors.
John and Deborah first started donating blood when they moved to New Zealand from San Francisco in the 1960s.
As an avid motorbike fanatic, John figured he may need blood himself one day so donating was just like "putting money in the bank".
"The fact that John was racing motorcycles, you just never knew if he was going to need it," says Deborah.
John initially started donating whole blood and then progressed to donating platelets. Up until recently, he also regularly donated plasma.
He started donating plasma in 1999 after seeing child cancer patients receiving stem cells in Hamilton.
"It was something you could do to help people who really did need it - seeing the cancer patients, especially the kids, was really tough."
Katreena also donates plasma every two to three weeks and continued to do so throughout lockdown.
Tian continues to donate whole blood whilst studying at university in Wellington.
The entire family, who share the same blood type of A negative, want to help inspire more families to give blood.
"It doesn't cost anything – the blood products are used by everyone. No matter what walk of life you are in you may need it. Help somebody out, and make your blood products available," says John.
"To be turned down if you were in hospital because you couldn't get blood products or blood itself – that would be a really sad day."
New Zealand Blood Service says they need to collect more than 3500 donations every week to meet demand.
To become a blood donor down the app, visit: www.nzblood.co.nz or call: 0800 448 325 (0800 GIVE BLOOD) and book an appointment to donate.
More on SunLive...