Amateur photographer snaps Starlink 7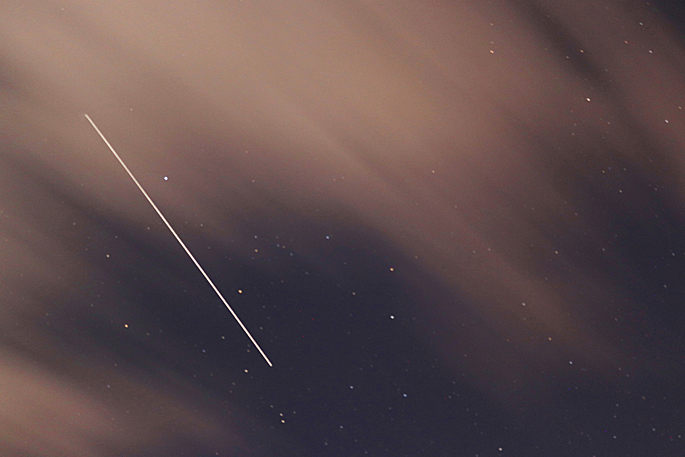 For a first attempt at photographing the Starlink satellites Callum Gibb is pretty happy with his results.
"I've never tried anything like that, so it was quite cool even though it was a little bit blurry. It was pretty cool to get a photo of it, at least."
Callum is living on Minden Road in Te Puna and woke up early to capture the shot around 6am.
There was about a minute to get the photo as the satellites came across the sky from Kaimai Ranges and swung out of sight just before Mount Maunganui, he says.
The amateur photographer got into astrophotography during lockdown because the skies were quite clear and he needed something to fill in time.
"With my altered sleeping pattern, [waking] up at early hours of the morning that was when I practiced it."
Callum was worried he wouldn't be able to get the shot because of the cloudy skies this morning.
"I didn't actually expect to get a photo of them because there was a bit of cloud coming from Southwest, but that didn't get in the way of the picture.
"It's quite interesting when you do it too because you're looking around for something almost like a star that's moving. You see it and jump into action."
He took the photo on his Canon 800D using a 25 second exposure.
Callum says if people are interested in astrophotography or taking photos of Starlink they should give it try because once you get the camera settings right it's enjoyable.
"It's actually not that difficult to do, if other people were keen to get into it they should have a crack.
"It's actually quite a fun little thing to do, it just takes a bit of patience."
Starlink 7 that crossed the sky this morning is one of SpaceX's low earth orbit link of satellites that will provide low latency broadband internet across the globe.
The Starlinks orbit 550kms above earth.
More on SunLive...