Navy career up in the air for Whakatāne local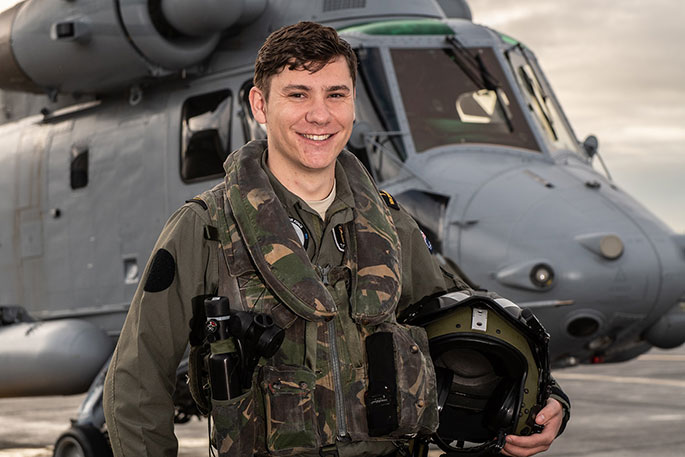 An outdoor job with some of the best office views in New Zealand drew Bay of Plenty student Tyson Turnbull into training for a career as a helicopter loadmaster with the Royal New Zealand Navy.
"I didn't want a permanent desk job," says Tyson, who now holds the rank of Able Helicopter Loadmaster. "I wanted a job where I could get out and do stuff and be involved in the community."
While at Whakatāne High School he considered a future with the New Zealand Defence Force, and the Navy in particular. Two years later, he is well on his way to becoming a qualified naval helicopter loadmaster.
"When I watched a recruiting video on the Defence careers website, hanging out the door of a helicopter looked like a good office view to me."
His high school subjects of physics, maths, calculus and statistics, English and history were a definite advantage for such a career, he says.
The Navy needed helicopter loadmasters, which meant Tyson could start loadmaster training sooner than normal.
He first completed the 18-week Basic Common Training (BCT) at Devonport Naval Base in Auckland.
"It got pretty gruelling at times, but it all worked out in the end."
He then completed a leadership course and spent a month living aboard HMNZS Canterbury.
"It was an awesome experience. It was good to get an idea of how things are run on the ship, how the crew operate together and the many aspects of how the different areas of the ship are run."
From there he went to Royal New Zealand Air Force Base Auckland at Whenuapai for initial aircrew training before being posted to 6 Squadron, the Navy's helicopter squadron.
It was then on to the Helicopter Basic Course at Ohakea Air Base in the Manawatū, training with 3 Squadron's A109 helicopters.
"The course teaches you about the helicopter loadmaster role, such as helping with weight and balance on the ground and then once we're airborne, being a second set of eyes and ears for the pilots, guiding them in when we go into clearings among trees, and landing in less than ideal places in less than ideal conditions," says Tyson.
"We also learn the utility part of our role, like winching and under-slung loads and how a helicopter can be employed on those tasks."
Since graduating from the course in October 2019, Tyson has returned to 6 Squadron and is now in the process of conversion training to naval Seasprite helicopters.
"I've only done two flights on the conversion course so far – it's early days but I'm looking forward to getting more training and experience," he says.
"I'm pleased with my progress and the rate they can train you and the capability that they have to keep that training going is amazing."
More on SunLive...