Wearing shorts for a cause in winter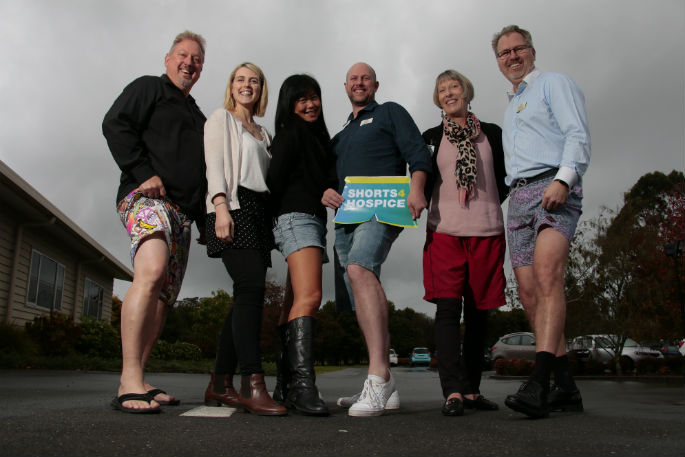 The Tauranga community is being called to slip into shorts on the darkest day of the year, to help support a hospice in need.
Waipuna Hospice is once again challenging the bravest of the brave to get on board 'Life is short, wear Shorts4Hospice' campaign.
The campaign is a light-hearted way to raise the subject of end of life care and community involvement with a fun and easy participation activity.
"The funds raised will go a long way in helping 1 in 3 people in our community who already use or will use hospice services," says a spokesperson for the organisation.
This year, Waipuna Hospice expects to care for 1000 patients and provide support services for their families.
Last year, nurses made more than 9642 visits and over 19,800 phone calls to patients in the community.
They have 141 staff that work in a variety of full and part-time roles, and a volunteer team of around 800 people.
Last year's event raised a few eyebrows' with some very creative shorts and costumes.
"Organisations came on board with a fierce fashion show, morning teas and other wonderful fundraisers.
Shorts4Hospice ambassador and local radio host, Will Johnston from the HITZ Bay of Plenty is encouraging all locals to be brave and bare their legs on Friday June 19 in support of their local hospice.
"It's the shortest day of the year and we want you to wear shorts for a great cause. Let's reconnect to our community after lockdown and come together to support our local hospice."
As a charity, all of Waipuna Hospice services are provided at no cost to patients and their families, but to be able to do this and support our local community they need to raise over $4.75 million this year.
Register now through your workplace, as an individual, school or community group.
Visit www.waipunahospice.org.nz/shorts or email events@waipunahospice.org.nz
More on SunLive...