Antenatal classes go online in a COVID-19 world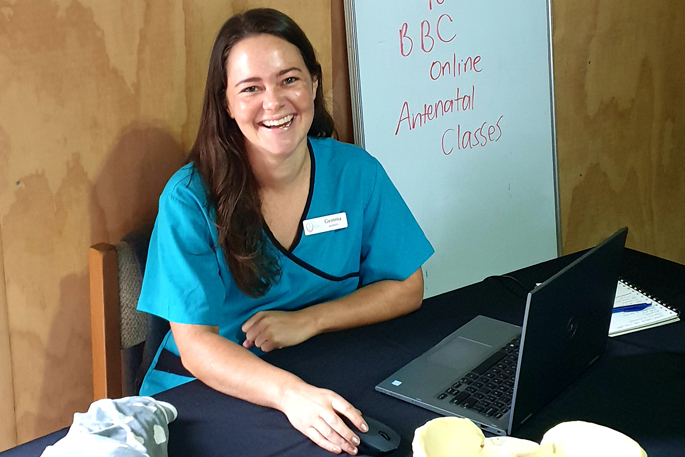 Expectant parents have a lot to learn before their baby is born but it became harder to do so during lockdown, so the Bethlehem Birthing Centre held their antenatal classes online.
The virtual antenatal classes have proved so successful that it may become a permanent option for couples who might struggle to attend in person under normal circumstances.
The primary birthing centre has been offering free classes for expectant couples for the past three years, with a focus on introducing couples to primary birthing – a natural birth without medical intervention - as well as forming a 'village' with other couples to build support networks.
While the centre has remained open for birthing throughout the pandemic, COVID-19 restrictions meant in-person antenatal classes were no longer possible.
Midwife Gemma Kurth has been running virtual classes on Zoom since the lockdown was announced in March. Each class has a maximum of eight couples and virtual 'meet and greets' are held with each couple before classes start to talk them through the process and how to make the most of the technology.
"It had its challenges in the early days, but people have become familiar with the technology as time has gone on. It also depends on the group. Some have been very active in the 'chat box', which has helped with interaction between couples," says Gemma.
"Virtual classes still give parents an opportunity to speak to a midwife and ask questions, and they still get to meet other couples, even if it's over a screen. It's a nice middle ground and I see great potential for it."
Couples attend up to three classes covering labour and birth, as well as skills for when baby arrives such as swaddling, bathing and breastfeeding.
Gemma's tools of the trade include a PowerPoint presentation, emailed handouts, and props such as a doll and a knitted boob for the practical demonstrations.
"I also encourage them to swap emails and contact each other after the class, reinforcing the importance of creating a village."
Alexandra Deas, clinical midwife manager at Bethlehem Birthing Centre, says because there is usually a lot of interaction and games played among the participants there were concerns this would impact on the social aspect of the classes.
"Our preference would always be face-to-face classes because of the interaction, but we have a changing workforce and society. There are couples where one might be working away from home. Offering online classes as an option long-term also means we can increase the numbers we can cater for."
Natalie and Simon Gyenge are expecting their first baby in June and have used the internet to access other antenatal resources, but were looking forward to attending classes the usual way.
"It definitely threw a spanner in the works, but I was pleasantly surprised at the way it was run. Gemma shared her presentation on screen with us and it was good to have the chat box to ask questions without feeling like we were interrupting her because we had lots of questions to ask!" says Natalie.
"One of the other benefits was being able to attend in our PJs and take breaks when we needed them."
With Gemma's help, Natalie and the other mums in her class have set up a private Facebook group and have organised a face-to-face catch up.
Toni and Kurt Johnson also attended online antenatal classes with Gemma. The couple have four children between them, and are expecting their first child together in early July.
While Kurt has attended antenatal classes before, Gemma's classes were Toni's first.
"It was great. I didn't feel like I missed out on anything by not being in an actual class," says Toni.
Kurt has attended antenatal classes in person before and says he "thoroughly enjoyed" the online classes.
"I'm a bit of a homebody so being able to stay at home was great and having the right sort of person running it makes all the difference to the experience. I had a few good laughs with Gemma."
He also felt people were more comfortable asking questions in the online environment.
As well as offering online antenatal classes, Bethlehem Birthing Centre has earned high praise from local women for its decision to continue allowing partners to stay with women for their postnatal care after birth. Hospitals throughout the country were sending partners home just a few hours after birth.
More on SunLive...