Southwest change bringing snow flurries overnight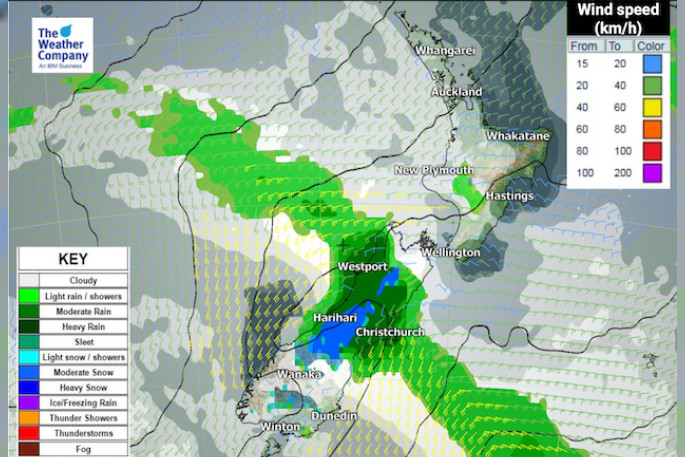 WeatherWatch reports that a southwest change to the weather will push northwards over the South Island today before moving onto the North Island this evening and overnight.

In Northland, Auckland, Waikato and the Bay Of Plenty, the weather is forecast to be partly cloudy, with a shower or two at times.
"The Bay Of Plenty will stay mainly dry and mostly sunny with southwesterly winds," says WeatherWatch Weather Analyst Aaron Wilkinson.

The temperature high for the Bay of Plenty today is expected to be 16-17 degrees.
In the western and central North Island, some cloud, with a risk of a shower and westerly winds is forecast. Evening rain will develop with a southerly change then easing overnight. Snow flurries should lower to 600-700m overnight before easing, with a high of 12-16 degrees.
The WeatherWatch forecast for the rest of the country is as follow:

Eastern North Island:
Mostly sunny, evening southwesterlies move into Wairarapa bringing rain, pushing into Hawkes Bay overnight. Some snow lowers to 600 about the ranges of Wairarapa
Highs: 16-18

Wellington
Sunny areas and increasing cloud, rain late afternoon / evening as northwesterly winds change southerly. Snow lowers to 600m overnight.
High: 14

Marlborough & Nelson
Mostly sunny, late afternoon rain with a southerly change. Rain clears at night. Snow lowers to 500 or maybe 400m before clearing.
Highs: 14-15

Canterbury
Sunny at first then rain spreads northwards late morning as a southwest change moves through. Snow lowers to 400 or possibly 300m before clearing. Rain clears at night.
Highs: 8-10

West Coast
Morning rain clears South Westland, showers turn to rain further north in the morning then clearing in the evening. Southwesterly winds pick up then ease later in the day.
Highs: 10-12

Southland & Otago
Morning rain and snow to 300m eases then clears, southwest winds tend northwest in the afternoon. A shower or two could linger about some coastal areas otherwise expect afternoon sunny areas.
Highs: 6-8


More on SunLive...