Rain again, then a cold southwest change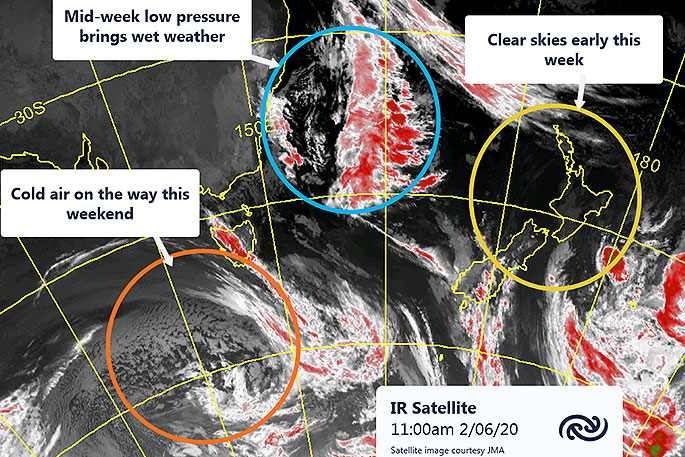 A low pressure system brought wet weather this weekend and MetService expects another to bring more rain midweek, before cold air moves in this weekend.
Queen's Birthday weekend brought rain to much of the country, with Northland and the Coromandel receiving the lion's share.
Auckland also received enough rain to give a healthy boost for gardens, but while MetService recorded a total of 105mm during the month of May, annual accumulations are still below that of last year, too soon to ease up on water restrictions just yet.
Northland, however, reported over 150mm during the course of the weekend, with many stations now reporting much healthier accumulations for 2020. Gisborne and the Hawke's Bay also had welcome rain, with some weather stations in the hills recording over 100mm over Sunday and Monday, and more modest amounts towards the coast.
The remains of the low pressure system that brought this rain moves off the country today (Tuesday), and skies are forecast to fine up for most of the country. But another rain maker is expected later this week.
"Another low is due to cross the country Wednesday through Friday this week, this time centred closer to the South Island, with strong, wet, northerly winds preceding it," says MetService Meteorologist Chelsea Glue.
"An associated front will bring strong winds and widespread rain to the North Island on Wednesday, with periods of rain persisting for the next few days.
"While Aucklanders and the rest of the North Island can expect another top up of rain from Wednesday, the South Island will also be the recipient of substantial precipitation, with a significant amount of snow forecast for the Canterbury hills on Thursday which will be welcome news for Mt Hutt.
"Strong northerlies and rain will set in on the west coast on Wednesday, then a southwest change on Thursday will bring rain and wintery temperatures to eastern areas, with heavy precipitation likely for Canterbury and Marlborough."
The southwest change continues up the North Island on Friday and marks a change in regime to fine breaks and cooler temperatures to end the week, with a dusting of snow possible for the southern ski fields over the weekend.
More on SunLive...